This Stout Steamed Mussels recipe is dark, smooth, and buttery. Every bite is a dream bite!
This Mussel dish is steamed with Stout beer, along with mushrooms, butter, garlic, and sage. These ingredients are a powerhouse together!
We hope it's going to become one of the best mussel recipes you've ever had.
---
In this steamed mussels recipe no wine is needed. But beer is definitely involved! And I'm so glad.
Because these flavors are spot on!
It's every bit sophisticated but one of the easiest mussel dishes, requiring minimal work with the absolute best flavors coming together seamlessly. The stout adds a deep and sweet flavor that works great with sage, a hint of garlic, and creamy butter.
Steamed mussels can be served as an appetizer or dinner. It was a hit when I served it to my friends for dinner along with crusty bread...there was not one drip of broth left!
This Stout Steamed Mussels recipe is incredibly easy to put together and every bite is so dreamy. From the soft and buttery mussels to the dark and incredible broth and the bites of mushrooms seal the deal.
This recipe will surely become one of your go-to best steamed mussels recipes!
This mussels recipe is gluten-free and the best keto mussels recipes!
FAQ
What do mussels go well with?
Mussels go well with other seafood, especially steamer clams and crab. Pair mussels with bread, fluffy rice, and pasta!
How long should you cook mussels?
Mussels only cook for 3-5 minutes on high heat. As soon as they pop open, they're done. Any mussels that don't open during the cooking process should be discarded.
HOW TO CLEAN MUSSELS BEFORE COOKING
It's important to clean and debeard mussels prior to cooking. After being cleaned mussels will need to be cooked right away, so don't clean too far in advance. This process is fast!
To clean mussels, grab their beard as close to the shell as possible and rip it off. Then rinse and scrub their shell under cold running water. Keep them in a clean dry bowl in the fridge until ready to use.
Don't forget to subscribe to receive new recipes directly to your email and follow us on social media.
[jetpack_subscription_form show_subscribers_total="false" button_on_newline="false" custom_font_size="16px" custom_border_radius="0" custom_border_weight="1" custom_padding="15" custom_spacing="10" submit_button_classes="has-vivid-green-cyan-border-color has-background has-vivid-green-cyan-background-color" email_field_classes="has-vivid-green-cyan-border-color" show_only_email_and_button="true" success_message="Success! An email was just sent to confirm your subscription. Please find the email now and click 'Confirm Follow' to start subscribing."]
TO MAKE STOUT STEAMED MUSSELS YOU WILL NEED
INGREDIENTS
Fresh Mussels. I received mine from our friends at Taylor Shellfish. The mussels were delivered to my door in great packaging. They were large and juicy!
Stout Beer. I used Mount Olympus Brewing Salute Stout, which has notes of caramel and chocolate. It's absolutely perfect in this dish, but any stout will do if you can't find it.
Butter. Unsalted. Replace with dairy-free butter if needed.
Brown Crimini Mushrooms. Left whole, no need to cut anything. leaving the mushrooms whole makes them a great size to compete with large mussels. Mushrooms pair so beautifully in this dish, soaking up the broth while providing some flavor back as well.
Garlic, finely chopped. A staple!
Dried Minced Onion. This provides the broth with incredible flavor and a must.
Fresh Sage. From the refrigerated section at your local grocery store. Be sure to chop it.
Fresh Lemon Juice. Fresh squeezed is best for flavor!
Salt and pepper to taste. It will just need a touch.
EQUIPMENT & SPECIAL INGREDIENTS
Measuring cups and spoons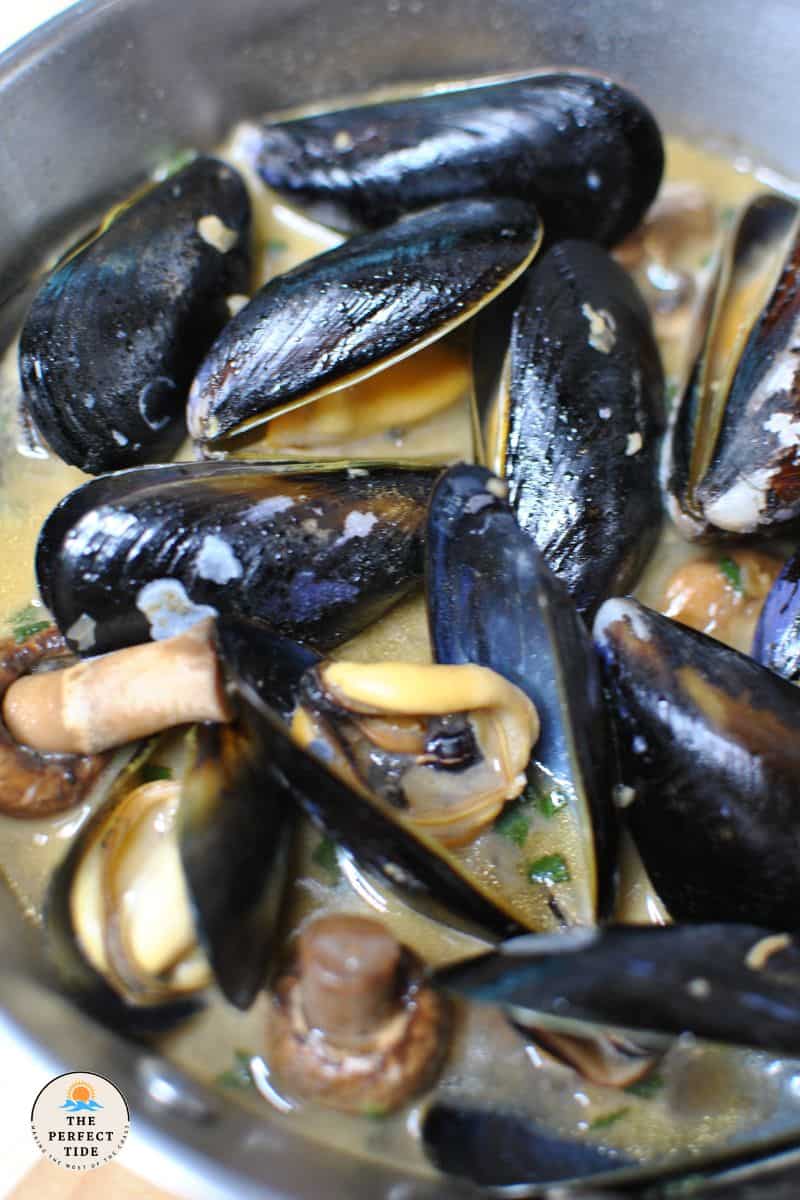 WHAT TO PAIR WITH STEAMED MUSSELS
With the dish: Crusty Bread. Dip your bread in the broth of this delicious dish.

Dinner Pairing: Rosemary Parmesan Crusted Fish.

Salad Pairing: Tabouli Salad.

To drink: Stout Beer. Eating and drinking Stout is quite the accomplishment, kick back and enjoy!
If you loved this Stout Steamed Mussels recipe, let me know by rating it using the stars below.
Stout Steamed Mussels
This Mussels with beer recipe is dark, smooth and buttery. Every bite is a dream bite!
Made with fresh mussels, stout beer, mushrooms, butter, garlic and sage.
We hope it's going to become one of the best mussel recipes you've ever had.
Ingredients
2

lbs

mussels

1

cup

stout beer

4

tablespoon

butter

unsalted

5

cloves

garlic

minced

1.5

teaspoon

dried minced onion

1

lb

brown crimini mushrooms

washed, kept whole

2

tablespoon

fresh sage

chopped

2

teaspoon

fresh lemon juice

Sprinkle of salt and pepper to taste
Instructions
In a large pot on medium heat, melt butter then add sage, dried onion, garlic and mushrooms.

Add Stout and bring the pot to high heat. Let simmer without the lid for a minute while stirring.

Add the mussels and cook until they pop open, typically takes 3-5 minutes.

Once they open, remove from heat and add lemon, salt, and pepper. Serve warm.
Notes
Discard any mussels that remained closed.

Best enjoyed with crusty bread and a pint of stout.
I used Mount Olympus Stout.
Loved this recipe?
Give us a 5 star review & Share!
Check out the latest uploads!
*As an Amazon associate, I earn from qualifying purchases from qualifying purchases through the links at no extra cost to you.