This creamy Mussel Soup is made Italian-style – with gnocchi, roasted red pepper sauce and torn fresh basil.
It's a simple Seafood Gnocchi dish is a cozy, inviting meal that draws you in with more with fresh mussels cooked in a creamy red pepper sauce, and finished off with freshly grated cheese and fresh basil. Get your soup bowls ready!
---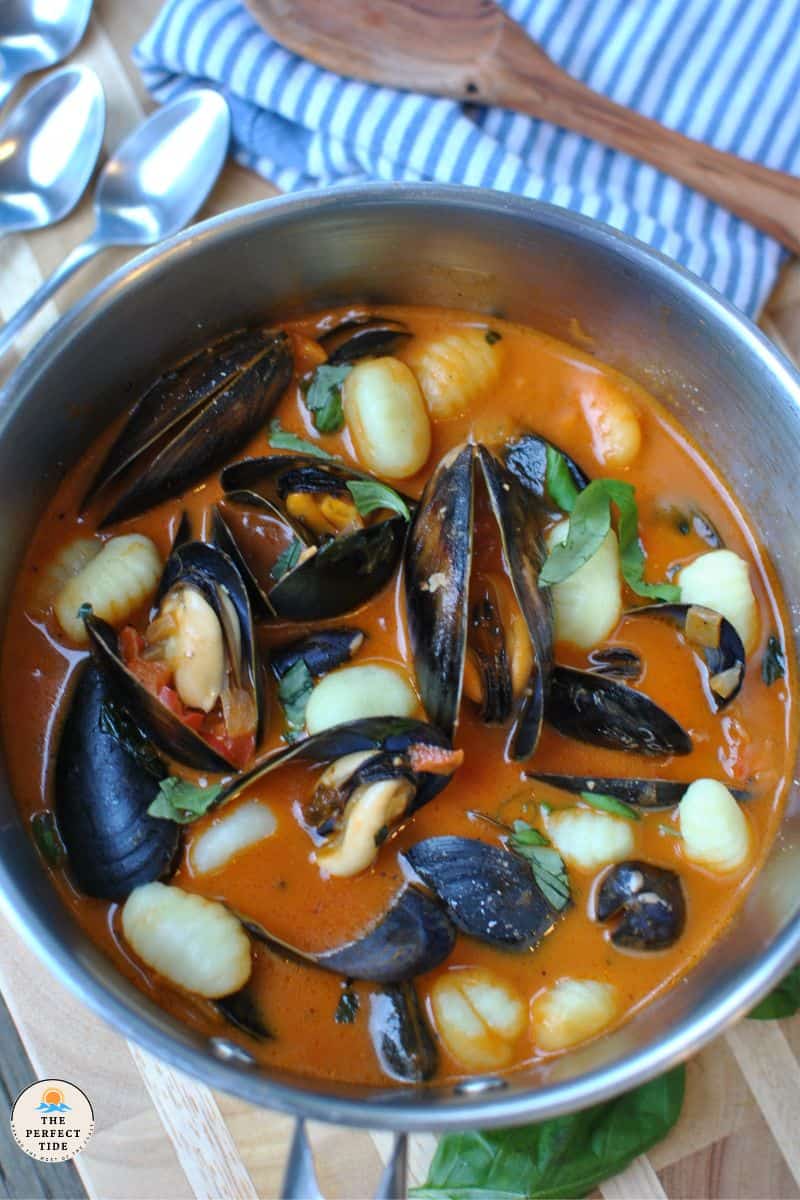 Serving with soup crusty bread makes a great match. I recently made this Rosemary Parmesan Bread that is to die for! Give it a shot for a starter with this Mussel Soup!
I had the inspiration for this recipe from my all time favorite go-to quick dinner in the cold seasons, which is, Gnocchi with Roasted Red Pepper Sauce.
I've made that recipe for as long as I can remember. It's quick, and easily dressed up with any protein and fresh herbs I have on hand. But, my go-to protein of choice was typically Razor Clams. We often went razor clamming on the Pacific Coast, and I created this dish after one of our trips, years ago.
Since this recipe has always had a place in my heart and dining table, I knew adding mussels would take it to a whole new level. Especially being that mussels have a deeper, richer seafood flavor than most other seafood. Making it the perfect partner for a creamy red base.
And boy, oh boy, it did not disappoint. Just look at that closeup (above) of every bite of delicious!
It's the creamy red seafood soup of my dreams! So get your ingredients together (there isn't many!) and cozy up with this Mussel soup recipe!
HOW TO CLEAN MUSSELS BEFORE COOKING
When purchasing fresh mussels, you will need to clean and debeard them before cooking.
After being cleaned mussels will need to be cooked right away, so don't clean too far in advance. This process is fast!

To clean mussels, grab their beard as close to the shell as possible and rip it off. Then rinse and scrub their shell under cold running water. Keep them in a clean dry bowl in the fridge until ready to use.
Don't forget to subscribe to receive new recipes directly to your email and follow us on social media.
[jetpack_subscription_form show_subscribers_total="false" button_on_newline="false" custom_font_size="16px" custom_border_radius="0″ custom_border_weight="1″ custom_padding="15″ custom_spacing="10″ submit_button_classes="has-vivid-green-cyan-border-color has-background has-vivid-green-cyan-background-color" email_field_classes="has-vivid-green-cyan-border-color" show_only_email_and_button="true" success_message="Success! An email was just sent to confirm your subscription. Please find the email now and click 'Confirm Follow' to start subscribing."]
TOP TIPS FOR THIS MUSSEL SOUP ITALIAN STYLE RECIPE
Boil the mussels only until their shells open. If you boil longer, they will get overcooked and become chewy. No one wants that!
Cooking the gnocchi first and setting it aside will avoid your soup getting starchy.
DISCARD any mussels that don't open during the boiling process.
TO MAKE THIS RECIPE YOU WILL NEED
INGREDIENTS
Fresh Mussels. I received mine from our friends at Taylor Shellfish. The mussels were delivered to my door in great packaging. They were large and juicy!
Gnocchi. It's usually in a plastic package placed near other pasta. Gnocchi creates a small bite size chewy pasta that compliments the mussels.
Roasted Red Pepper and Tomato Soup. This is a creamy tomato and pepper base that is essential to this soup recipe. It's packed in a carton, similar to butternut squash soup, and found in most large grocery stores.
Red Bell Pepper. If you were in a pinch and didn't have red bell peppers, a good substitute is orange bell peppers.
Fresh Basil. A handful of chopped fresh basil to serve.
Gouda is a great option to shave onto each bowl to serve. It's optional but adds another level of cozy to this Italian mussel soup recipe.
EQUIPMENT & SPECIAL INGREDIENTS
Good quality measuring cups and spoons, if you're ready to upgrade,
OTHER SEAFOOD RECIPES TO TRY
Don't forget to send to a friend that loves seafood!
Mussel Soup
Mussel Soup Italian style, with gnocchi, peppers, onion, and a creamy roasted red pepper sauce. Finished off with freshly grated cheese and fresh basil.
This simple Seafood Gnocchi dish is a cozy, inviting meal that draws you in with more, and it takes only 20 minutes to make, from start to finish!
Ingredients
2

lbs

mussels

rinsed, scrubbed, and debearded

1

pack gnocchi

1

carton

roasted red pepper and tomato soup

¼

cup

olive oil

1

yellow onion

roughly chopped

1

red bell pepper

finely chopped

6

cloves

garlic

finely chopped

salt and cracked black pepper

handful of basil leaves

optional: Fresh Shaved Gouda
Instructions
To a large pot of boiling water, add Gnocchi and cook until they float for about 2 minutes.

Drain the gnocchi into a colander and set them aside. Return the pot to the stove on medium heat, and sauté olive oil, garlic, onion, red pepper, salt, and pepper. Cook until the onion is slightly golden and red pepper is softened, about 2-4 minutes.

Add the red pepper soup and turn to high heat until it comes to a boil. Lid on.

Toss in the mussels and cook with the lid on until they open, typically takes a few minutes. Garnish with fresh basil and gouda to serve.
Notes
Shellfish safety: If the mussels are open prior to cooking, gently squeeze them, if they remain open then discard them. 
If mussels stay closed after cooking, discard them.
Store extras in an airtight container in the fridge for up to 2 days.
*calories are just an estimate.
Nutrition
Serving:
1
serving
Calories:
390
kcal
Loved this recipe?
Give us a 5 star review & Share!
Check out the latest uploads!
*As an Amazon associate, I earn from qualifying purchases from qualifying purchases through the links at no extra cost to you.