A super easy guide on how to cook crab! If you're cooking crab for the first time or you need a refresh, then this is for you. The taste of fresh crab is unbeatable, and cooking it yourself is so easy and so rewarding.
Cook whole live crab, sections, or crab legs using this recipe! Since we live on the Pacific coast, we love fresh shellfish and cooking Dungeness crab is a regular for us! We love being able to have a catch-and-cook lifestyle with our family and have tested this crab cooking method, as well as opening, cracking, and cleaning crab methods more times than we can count. They're great tools for a refresh!
Dungeness crab is incredibly delicious and so versatile. Though it's one of the few foods that I will enjoy plain. This juicy crustacean doesn't need a dip in my opinion, but I do provide a recipe for seafood sauce that we enjoy with it from time to time.
Otherwise, look through our growing crab recipes. Starting with a seafood breakfast that's sure to please like this Crab Omelet. To this Hot Crab Dip that makes the perfect snack or seafood appetizer. I could rave about this Cajun Crab Boil forever, it's filled with the best flavors, and so incredibly easy to whip together.
A morning that consists of crabbing in our house, is a happy morning! The morning tides are typically what we aim for when planning a crabbing trip with our young family. Mainly because morning tides are much lower than night low tides, which makes it easier to catch crabs!
After a successful crabbing trip, we practiced various ways to cook our crab. We tried steaming, boiling with no spices, boiling with spices, cooking for longer time and cooling it immediately, etc.
After cooking crab so many ways, we finally found a way to cook crab juuuuusstt enough and let it sit out to cool on it's own. This is the best way to cook crab without overcooking it.
We have definitely used this method to cook our crab more times than we can ever count!
ABOUT DUNGENESS CRAB
Dungeness crab live on the West Coast of the United States. They are a highly sought-after shellfish in the Pacific Northwest. Thankfully, they are incredibly delicious and provide a generous amount of crab meat. The meat of a Dungeness crab is sweet and juicy.
FOR COOKING CRAB, YOU WILL NEED
A large pot.
Water
Salt
Seafood boil seasoning. This is completely optional. Use this for a southern twist. We have used Seafood boil seasoning a handful of times, especially when we make our Seafood boil. However, we find that it masks the delicious and fresh taste of a Dungeness crab, so we typically cook crab without seafood seasoning.
HOW TO COOK CRAB
This is the best, fastest and easiest method to cooking them alive. No need to process them prior to cooking.
STEP 1 - To a large pot, pour water and add salt if you'd like. Bring the water to a raging boil.
STEP 2 - Place the live crab in the boiling water and cover with the lid.
STEP 3 - Boil for 12 minutes.
STEP 4 - Remove the crab from the pot and let the crab cool completely on a large plate prior to serving or storing. It typically takes 15-30 minutes for the crab to cool.
WHAT PART OF A DUNGENESS CRAB CAN YOU EAT
The parts of Dungeness crab that you can eat are the legs and the body meat. Crab legs are firm, while the body meat will be softer. Both are incredibly delicious!
WHAT NOT TO EAT ON A DUNGENESS CRAB
The only parts of a Dungeness crab that you can't eat are the gills and the shells. Most people don't eat the "butter" but it is edible. The butter of a Dungeness crab contains the most potential toxins. If you plan to eat it, be sure to check the toxin levels from the area you harvested from.
WHAT DO CRAB TASTE LIKE
Crab has a sweet seafood taste, and it's incredibly juicy. Though the crab flavor may change slightly depending on where you harvest the crab from. If I were to compare it to another shellfish, I would say that a Dungeness crab is most similar in taste to a Lobster. Both have somewhat similar meat consistencies and similar tastes.
Dungeness crab is desired by many and such a crowd pleaser!
WHAT PART OF A DUNGENESS CRAB IS MOST DESIRABLE
Generally, crab legs are the most desirable part of a crab and the ultimate crowd-pleasers. They tend to be more firm, holding their shape. Crab legs are also more flavorful than crab body meat.
HOW DO YOU CATCH DUNGENESS CRAB
Dungeness crabs live in the Pacific ocean and range all the way from Alaska down to southern California. You can catch Dungeness crab using various castable crab traps, crab pots, crab rings, and if you're lucky you can find a Dungeness crab in shallow water on a beach.
HOW LONG CAN YOU STORE COOKED CRAB IN THE FRIDGE
Once cooked, crab can be stored in the fridge for 3-5 days. The rule of thumb in my house is typically no more than 3 days. If we are not planning on consuming the entire serving in that time frame, I plan ahead and store the rest of the crab meat in the deep freezer for another day! Unless we plan on having company over, then we always share.
CAN YOU FREEZE COOKED CRAB
Yes! We typically store our crab in an airtight freezer bag or vacuumed sealed in our deep freezer. We have found they keep extremely well if frozen properly. Upwards of about 8 to 9 months, which is amazing to have fresh-caught crab to eat year-round.
Freezing crab once cooked is a great way to quickly add seafood to a meal all year round. We like to eat Dungeness crab in various amazing dishes during off season, such as crab rolls, crab linguine, and crab omelet to name a few!
HOW LONG TO COOK CRAB
How long do you cook crab? That's an easy answer, we have found that the amount of time you boil crab really matters to get the best tasting meat. If you're cooking crabs for the first time, you have to be careful to not overcook crab to the point where it becomes rubbery. The perfect amount of time to cook crab is 12 minutes on high heat. Our full recipe is below!
IS IT BETTER TO BOIL OR STEAM CRABS?
One question we are often asked is "Is it better to boil or steam crabs?" and to answer that it really depends on the amount of crab you're cooking.
It's much easier to steam crabs if you have a large number of crabs to cook. As for boiling crabs, it's easier to bring a pot of water to a raging boil for a smaller amount of crabs, I'm talking 2-3 crabs. Boiling crabs is better if you prefer to add seasoning to the water in order to flavor the crab.
So, if you're cooking crabs for the first time and you only have one or two whole crabs to cook, I'd suggest you boil using our recipe below!
This is a simple and best way to boil crab!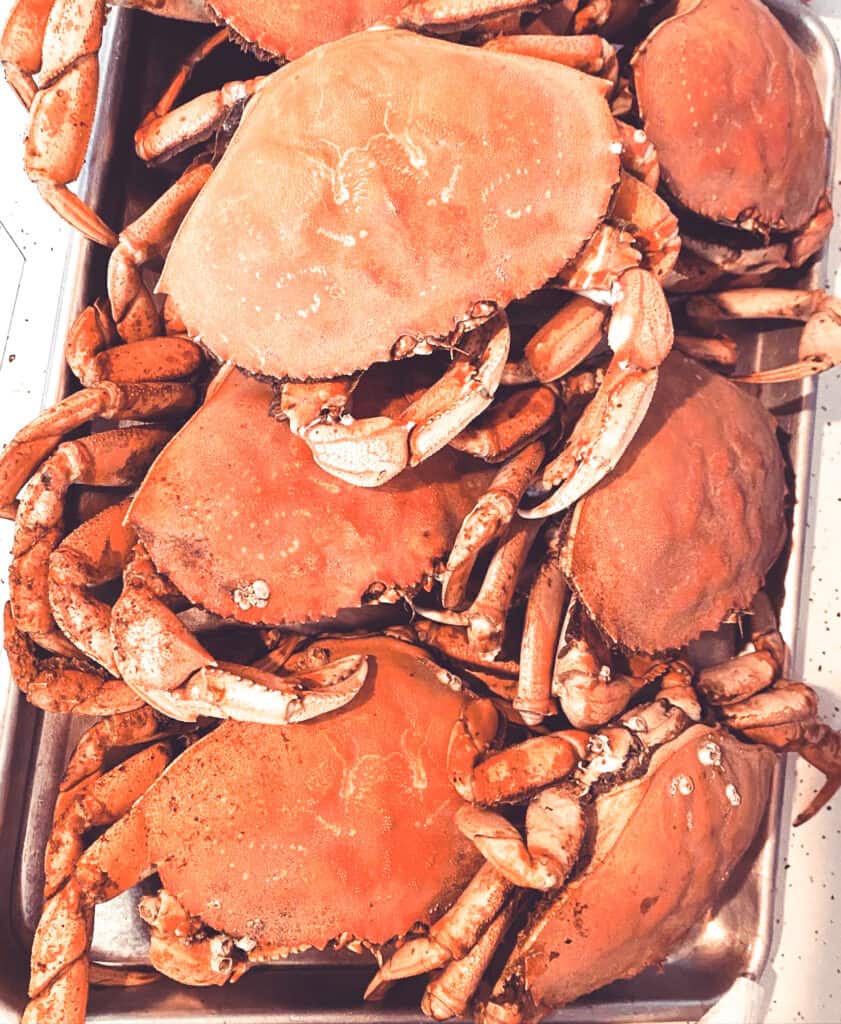 COOKING A LOT OF CRAB
When we come home after a more fruitful crabbing harvest, we use our outdoor set-up to cook the crab. Cooking a large amount of crab outside is much easier and cleaner. Not to mention how the bragging rights!
If you plan to cook a lot of crabs, we suggest this pot! We invested in this large pot, which has been a game-changer when we plan to cook a large amount of Dungeness crab. If you have a very successful crabbing trip, try cooking Dungeness crab in this pot outside.
For cooking a large amount of crab, you will need
A propane burner stand
An extra-large pot. This is the one we have and LOVE!
*As an Amazon Associate, I earn from qualifying purchases at no extra cost to you.
WHAT TO PAIR WITH CRAB
OTHER CRAB RECIPES
Be sure to follow us on Facebook and Instagram.
If you enjoyed this recipe, let me know with a comment and a star rating below. Please share it on Facebook and save it on Pinterest for later!
I'd love to see the dishes you've made using our recipes! Please post them on social media and tag us! You can find us on Facebook @perfecttide and Instagram @theperfecttide
How To Cook Crab (The Easiest Way!)
This crab recipe is a tried and true best and easiest way to cook crab, from our ocean living to your kitchen! I'm working with Dungeness, but you can use rock crab, sections, or crab legs. They'll come out perfectly cooked and ready to enjoy with a side of garlic butter!
Ingredients
2

lbs

Crab

I used Dungeness, but you can use snow crab, king crab, or crab legs.

Water to fill your pot a little over halfway

1

tablespoon

salt

Optional: 1-2 tablespoon Seafood boil seasoning
Instructions
To a large pot, pour water and bring to a raging boil

Place the crab in the boiling water and cover with the lid.

Remove the crab from the pot and let the crab cool completely on a large plate prior to serving or storing. It typically takes 15-30 minutes for the crab to cool.
Notes
Choose a pot that's bigger than the amount of crab you plan to boil.
If you are cooking a large amount of crab, add more salt. We typically add a few tablespoons to our outdoor pot when we cook a large amount of crabs.
Seafood boil seasoning is optional depending on your taste. We find it masks the flavor of a crab.
To expedite the cooling process, run the crab under cold water for a minute or two.
Serve with a side of our Perfect Tide Seafood Dipping Sauce.
We would love to see your dish! If you made our recipe, post and tag us @ThePerfectTide or #ThePerfectTide
Nutrition
Serving:
3
oz
Calories:
73
kcal
Loved this recipe?
Give us a 5 star review & Share!