Get your crab on with this Fresh Crab Tacos recipe! Make these flavorful seafood tacos with fresh Dungeness crab, a simple fresh corn salad, then top with a spectacular cilantro lime dressing! This meal that's packed with fresh flavors comes together in 20 minutes!
Nothing beats fresh crab in my eyes. Being on the coast, we get our share often as a fun family activity. When we're not eating them freshly steamed, or in this phenomenal Easy Cajun Crab Boil recipe, we're cracking them and adding them to a fresh meal for our entire family to enjoy.
If you're working with live crab, you'll need our favorite method on How to cook crab, and of course follow it up with How to crack crab!
There's a lot more Crab recipes to choose from if you end up with leftovers! Like this Crab Omelet, that made the news in my town!
And, a crowd favorite Crab Rangoons, that are so crunchy and so creamy! Not to mention this mouthwatering crab melt!
If you're in a spaghetti mood, you have to try this light and fresh Crab Pasta with Lemon Garlic Sauce!
INGREDIENTS NOTES
Let's take a look at what's inside these crab meat tacos!
You get a satisfying crunch from the corn salsa, some garlic, cilantro, tomatoes, and cheese to take it up a notch (and because we love cheese), and allow this succulent crustacean to shine as much as possible on this one!
The garlic cilantro dressing is packed with flavor, and you can put as much or as little as you'd like.
Fresh Dungeness is so incredibly delicious on its own (I just had it for dinner and I want more!) so I'm always cautious about the amount of other flavors I add to crab recipes to make sure not to overpower it.
WHAT TYPE OF CRAB TO USE IN THIS RECIPE
We are so fortunate to have the Pacific coast as our homestead, which means fresh Dungeness! But any will be perfect for this crab meat tacos. There are so many varieties to choose from, so take your pick!
All of them are different, in terms of how much meat they have so be mindful of that in this recipe. Two Dungeness will average 2 or so cups, but that will vary significantly between rock crab, blue, green, snow, king, and so on (yes there are more species!).
HOW TO MAKE THESE SEAFOOD TACOS
Making this crab taco recipe is as simple as can be. So let's dig in.
First, I typically make the cilantro lime crema and place in the fridge to meld.
Then whip up the corn salsa. Next warm the tortillas on a skillet, add cheese, add the crab, and transfer to a plate to top with the fresh corn salsa and the sauce. It's that easy.
TIPS and TRICKS
Make it easy!
CORN

Use frozen, canned, or cooked corn instead of fresh corn on the cob.
If you prefer to make this corn salsa recipe with cooked corn that's totally fine!
CRAB TIPS

Purchase pre-cracked meat in the fish section of just about any grocery store. This will significantly cut down on time.
Always pick through crab meat for shells.
CRAB TACO SAUCE
To get the most flavor out of your dressing, make it in advance and place it in the fridge the night before! The flavors will meld beautifully by the next day.
FAQ
What kind of sauce goes with crab tacos?
The best sauce to serve with them is a cilantro lime crema. The garlic, cilantro, and fat from the sour cream compliments the juicy crab meat perfectly, along with other veggies served with it.

Add as much sauce as you'd like but even a little bit will make a big difference in these tacos.
What to serve with crab tacos?
Chips and dip, flavored rice pilaf, roasted veggies, or a fresh salad are all great sides to serve alongside. Choose a dish that's flavorful, but doesn't take the spotlight away from fresh crab.
How long can I store in the fridge?
Store for up to 2-3 days in the fridge depending on how fresh the crab meat is. Pack leftovers in an airtight container to keep them fresh. Enjoy within a day or two if possible.
RELATED RECIPES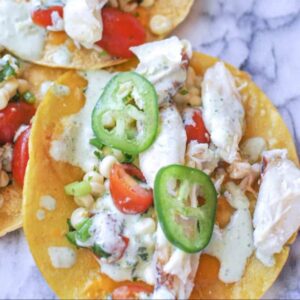 Fresh Crab Tacos
This Crab Tacos recipe is so easy and so flavorful!
With fresh Dungeness crab, or another use another species, a creamy cilantro lime crema, and a simple and flavorful corn salsa.
These seafood tacos are a staple easy dinner for my household!
Ingredients
2

cups

Fresh crab meat

about 2 whole dungeness

pinch of

salt

for the crab

8

corn

tortillas

2

cups

your favorite shredded cheese

White cheddar, mozzerela, or medium cheddar work great!

3

tablespoon

butter

as needed
Corn Salsa Ingredients
2

corn on the cob

or 15 oz can

2

cups

cherry tomatoes

cut in half

6

stalks

green onion

diced

½

cup

cilantro

chopped

3

tablespoon

jalapeno

finely diced, or to taste

5

cloves

garlic

minced

2

tablespoon

extra virgin olive oil

1

lime

zest and juice

½

teaspoon

salt
Garlic Cilantro Seafood Taco Sauce (optional)
1

cup

sour cream

¼

cup

mayo

3

cloves

garlic

½

cup

cilantro

1

lime

zest & juice

½

teaspoon

salt
Instructions
To Make The Corn Salsa
Shuck and cut corn off the cob and place in a bowl.

To the bowl, add cut tomatoes, diced green onion, cilantro, jalapeno, garlic, lime zest and juice, olive oil and salt. Then stir and set aside, or set in fridge covered.
Garlic Cilantro Seafood Taco Sauce (optional)
In a blender or food processor, add the garlic, cilantro, mayo, salt and lime juice. Blend until mixed thoroughly.

Add the sour cream and stir to combine. Place in fridge to get cold and harden a bit if you have time, otherwise serve as is.
To Assemble the Tacos
In a skillet on medium-high heat, add in about ½ tablespoon of butter, and let melt. Add corn tortillas to crisp on one side, then flip.

Immediately add a handful of cheese and crab to top of each tortilla. Once the cheese has melted and the crab is warmed, remove the tacos and place on a serving plate, covered. Repeat these steps with all the tortillas.

Top each taco with corn salad and cilantro lime sauce to serve. Enjoy!
Notes
If you prefer cooked corn - feel free to cook it! If you're short on time, place the corn with the husk and all, in the microwave for 5-6 minutes. Allow to cool. Then peel. Cooking the corn in the microwave makes it incredibly easy to shuck it!
HAVE LEFTOVER CRAB? Make my Omelet Recipe!
Loved this recipe?
Give us a 5 star review & Share!
Please share this recipe with your friends and family if you enjoyed and TAG US!
Tag us on FB @PerfectTide OR Tag us on IG @theperfecttide