Get a taste of Baja in every bite with this fish taco recipe, with tender, flaky perfectly seasoned fish, and a zesty slaw to seal the deal! Plus I'm giving you all the best tips and tricks to make them perfectly, every time.
We regularly go fishing and coming home with our fresh catch is always exciting. But it's even better when we have fish tacos on the menu for dinner! So, let's whip up our trusted easy-peasy, plate lickin' good recipe!
WHY WE LOVE THIS RECIPE
Tried and True Fisherman's Recipe! We fish often and this has been on go-to quick and easy recipe that packs a punch of flavor every time, whether we're using fresh or frozen fish!

So Easy! Using easy to find ingredients to make the recipe that's great for a weekday or weekend.

The Best Flaky Flavorful Fish. The blackened fish is cooked to perfection - it's flaky, tender, and juicy! And packs in all the baja flavors in the seasoning.

Just 2 components - The fish and the slaw is all you have to prep. This is a fool-proof recipe that anyone can make. Once the fish and the slaw are prepped, the tacos just need to be assembled to serve, which is the best part if you ask us!

Healthy. Unlike some fish tacos that offer breading, this one is free of extra oils from frying, and breading. It's simply the omega-3 packed fish and delicious seasoning! Plus all the extra health benefits offered in fish that keep us coming back for more.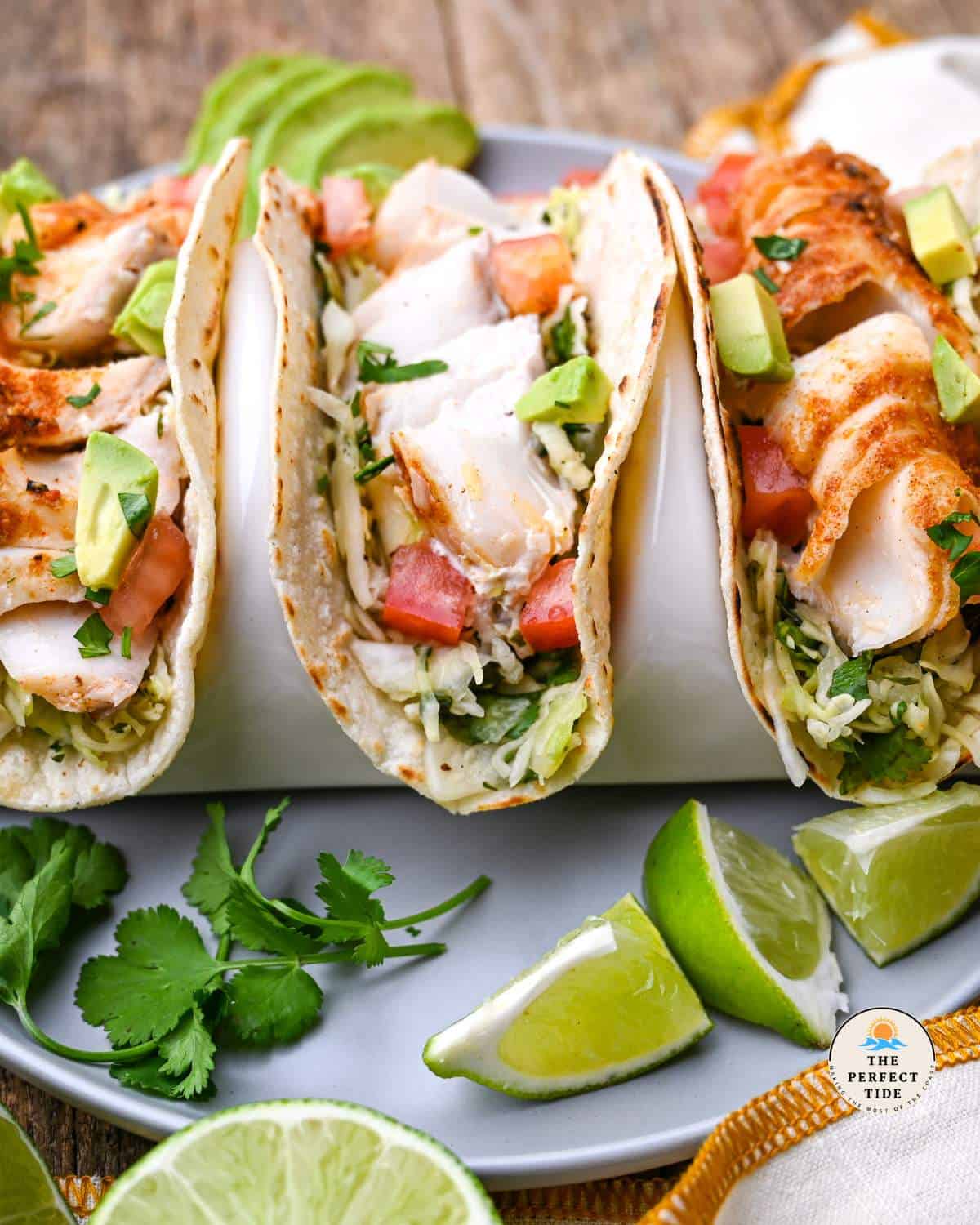 HOW TO MAKE THE BEST FISH TACOS
Around here, seafood is on the menu at least every other day. So, we've been around the block a few times to try out various fish taco recipes, and tons of other seafood tacos, like family's go-to crab tacos, and clam tacos... the list goes on!
So, I'm giving you a run down of my best tips and tricks for making the best seafood tacos, every time!
WHAT IS THE BEST FROZEN FISH FOR FISH TACOS?
Salmon, cod, black cod, rockfish or halibut are all great frozen fish options for tacos. I've also used perch, though they are incredibly soft and flaky, they were absolutely delicious for seafood tacos.
My favorite fish for tacos is black cod, by far. They're incredibly fatty and juicy, which compliments the slaw beautifully. Secondly, I would go with cod or rock fish for their tame flavor that can handle the taco seasoning well.
If the fillet is still frozen and dinner is fast approaching, here's the best way to cook frozen fish without thawing!
HOW TO MAKE THE SEASONING
You'll need a few seasonings and spices that you typically have on hand to make the easiest blackened fish seasoning. The combination of these spices are what darken the fish while it's cooking and giving it the name "blackened". It's also super delicious, so there's that too!
The Ingredients You'll Need
All you need to do is grab a small bowl and a spoon. Add all the spices and zest to the bowl and stir until combined before putting it on the fish.
THE SLAW
This slaw is the secret to taking your tacos from yum, to WOW!
It's a crunchy, zesty mix of finely shredded cabbage, cilantro and green onions, combined with a simple 3-ingredient lime dressing that packs a punch!
Then, top it with diced tomatoes and avocado to add more flavor and color. The avocados also add creaminess to the tacos without needing a sauce. One less step, and the flavor really isn't missing. Though, I do provide an optional crema recipe if you prefer it that way.
BEST SIDES TO PAIR ALONGSIDE
Corn on the Cob
Cilantro Lime Rice
Tortilla Chips and Salsa or Guacamole
Extra lime wedges for fresh lime juice on your tacos.
FAQ
Can I prepare this recipe in advance?
Absolutely. This recipe is incredibly easy to prepare in advance because the fish is not fried. You can make it hours before serving and leave all of the components stored in an air tight container in the fridge, separately. Warming up the tortillas should be left as the last step prior to serving to keep them warm and fresh.
How can I prevent the fish from becoming soggy in the taco?
The fish will be juicy, but there is no fear on them becoming soggy since we're not frying them. They're healthier, add more flavor, and no risk of getting soggy.
What is the white sauce on fish tacos made of?
The white sauce is made of 3 ingredients; sour cream, lime juice, and hot sauce. It's incredibly easy and packs good flavor without taking too much spotlight away from the fish. It's optional to add to this recipe, since I find that the slaw and seasoned fish packs quite the punch alone.
What are other toppings I can use?
Other common toppings to add to your fish tacos are shredded lettuce, diced tomatoes, black beans or a bean salsa, pico de gallo, and pickled onions are all great options that add a ton of freshness and flavor.
MORE SEAFOOD RECIPES
Blackened Fish Tacos with Slaw
Get a taste of Baja in every bite with this blackened fish taco with slaw recipe! The tacos are wrapped up with tender, flaky, blackened fish and a zesty slaw that seals the deal!
Ingredients
For The Slaw
4

cups

shredded cabbage

5

stalks

green onion

, chopped

½

cup

cilantro leaves

, chopped

3

cloves

garlic, minced

2

tablespoon

extra virgin olive oil

1

whole

lime, zested and juiced

½

teaspoon

salt

½

teaspoon

black pepper
For The Taco
8

corn tortillas, warmed

1

beef steak tomato, diced

1

avocado, diced

fresh lime wedges, to serve
Instructions
To Make The Slaw
To a large bowl, add cabbage, green onion, and cilantro.

In a small mixing bowl or in a mason jar, add garlic, olive oil, lime, salt, and black pepper. Mix the sauce together until well combined.

Fold the sauce onto the veggies and set aside in the fridge until ready to assemble.
To Make The Blackened Fish
Preheat the oven to 400F degrees.

Place the filets on top of a parchment paper-lined sheet pan.

In a small bowl, mix all the spices and rub evenly onto each filet.

Cook for 12-15 minutes, until internal temperature of 135F. Remove from oven and flake into large bite size pieces.
To Assemble The Tacos
To a warmed tortilla, scoop the slaw, then the seasoned fish filets. Top with avocado or other toppings of choice, then drizzle the crema. Enjoy!
Notes
Optional Crema
1 cup Sour cream
1 tablespoon Tapatilo hot sauce
1 tablespoon Lime juice
STORAGE
Store all components separately in the fridge to prevent them from getting soggy. They will keep for 2-3 days.
Loved this recipe?
Give us a 5 star review & Share!
RECOMMENDED