Fresh Huckleberry Margarita is a SUPER bright and unique mixed drink that screams Pacific Northwest!
And, it's pretty simple to make. Purchase or harvest Fresh Huckleberries, grab some lime, simple syrup, and Tequila, and just like that you have an easy and bright drink!
---
Huckleberries are native to the Pacific Northwest. We are lucky to have many evergreen huckleberry bushes in our yard and surrounding area.
It doesn't get better than walking outside with the kiddos, and harvesting fresh huckleberries towards the end of summer, beginning of fall months.
So, with fresh berries, we make margaritas! Or bread, but we went with margaritas first (haha). I'll get to bread or muffins next :).
To make this drink, fresh huckleberries are blended in a blender with the rest of the ingredients, then strained for any pulp.
The result is a beautifully deep purple color drink that's so festive and eye-catching!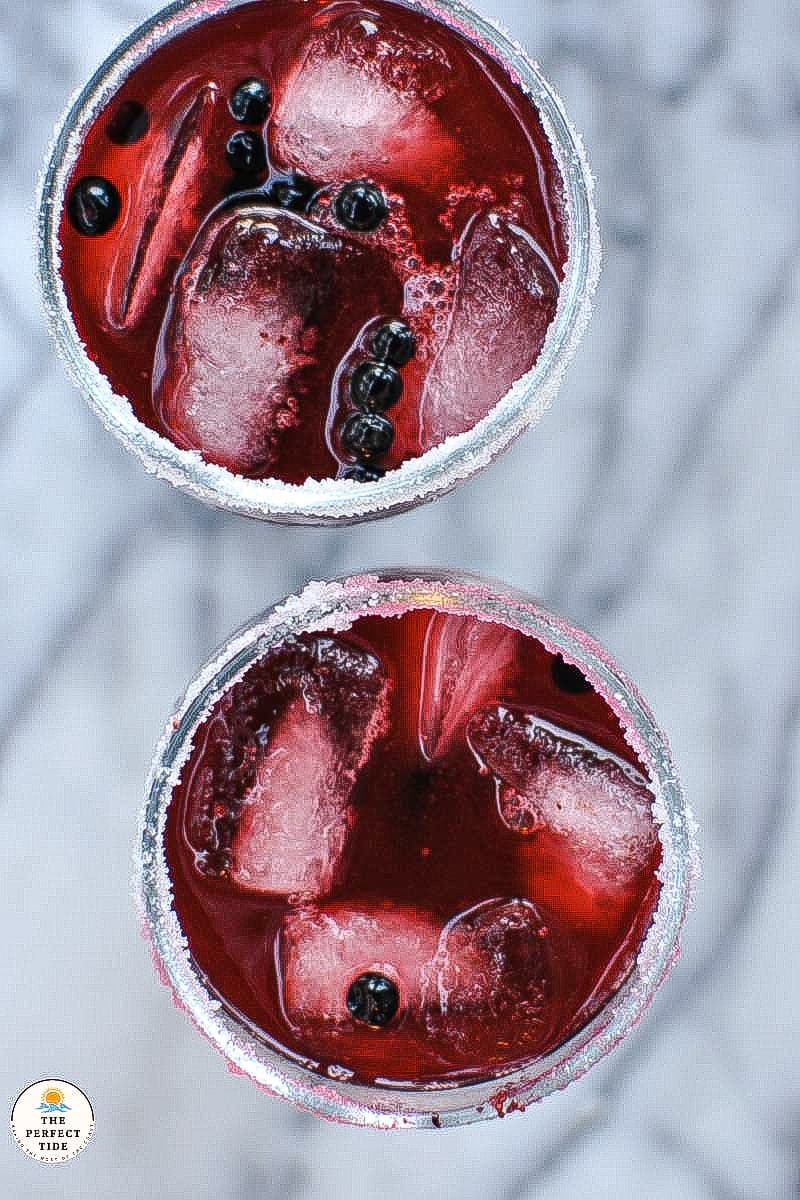 FAQ
Can huckleberries be eaten raw?

Yes, going for the darkest huckleberries will be your best bet for flavor. Huckleberries taste similar to blueberries but more tart.
Enjoy huckleberries raw by snacking on them or adding them to this huckleberry margarita.

What does unripe huckleberry look like?

Unripe fresh huckleberries are green then transform to red, and at this stage they are inedible. Whereas ripe huckleberries are dark purple/blue in color and are slightly sweet and tart and are great to snack on or add to recipes.
CAN YOU SUBSTITUTE FRESH FOR FROZEN HUCKLEBERRIES?
Yes, you can absolutely use frozen huckleberries, however you will need to allow the berries to thaw to room temperature then continue the rest as described,
Don't forget to subscribe to receive new recipes directly to your email and follow us on social media.
[jetpack_subscription_form show_subscribers_total="false" button_on_newline="false" custom_font_size="16px" custom_border_radius="0″ custom_border_weight="1″ custom_padding="15″ custom_spacing="10″ submit_button_classes="has-vivid-green-cyan-border-color has-background has-vivid-green-cyan-background-color" email_field_classes="has-vivid-green-cyan-border-color" show_only_email_and_button="true" success_message="Success! An email was just sent to confirm your subscription. Please find the email now and click 'Confirm Follow' to start subscribing."]
TOP TIPS FOR THIS RECIPE
Use a blender to get the most flavor out of fresh huckleberries.

Use a strainer to keep your drink smooth and clear from pulp is a must.

Use a spoon to squeeze the pulp from the strainer.
FRESH HUCKLEBERRY MARGARITA INGREDIENTS
Fresh Huckleberries can be harvested in the Pacific Northwest, or purchased from local markets during season, which is late summer/early fall.
Lime juice. Use only fresh squeezed lime juice to get the best most fresh flavor.
Simple syrup. Make your own using a 1:1 ratio of sugar to water. Easy peasy!
Tequila. Use your favorite tequila. We used Reposado Tequila.
EQUIPMENT & SPECIAL INGREDIENTS
My absolute favorite food processor/blender that I've had for years!
Measuring cups and spoons
WHAT TO PAIR WITH THIS FRESH HUCKLEBERRIES RECIPE
This margarita with fresh huckleberries recipe pairs great with seafood! Try my Crab Rangoon recipe, full of fresh crab meat and all the satisfying crunch.
If you like clams, you have to pair this with Clam Jalapeno Poppers! They are out of this world addicting!
Or enjoy with Silky Hummus and Pita chips on a Charcuterie board.
You will also enjoy my Spicy Mango Margarita recipe!
Fresh Huckleberry Margarita
This is an easy and vibrant drink recipe using fresh huckleberries, lime, simple syrup, and Tequila.
This margarita recipe knocks it out of the park in every department!
Ingredients
4

oz

tequila

your favorite

1

oz

lime juice

(2 tbsp)

3

tbsp

simple syrup

½

cup

of fresh huckleberries
Instructions
Add huckleberries, lime juice, and simple syrup to a blender and blend until pureed.

Prepare 2 glasses with salt & sugar rim, and ice. Strain the blended mixture over the 2 glasses, using a spoon to squeeze the juice of the huckleberries out.
Notes
Harvest your own fresh huckleberries or purchase them from a market.
Loved this recipe?
Give us a 5 star review & Share!
Check out the latest uploads!
*As an Amazon associate, I earn from qualifying purchases from qualifying purchases through the links at no extra cost to you.