Seafood Croissant Stuffing is the ultimate seafood side dish! With simple ingredients, and easy steps this seafood thanksgiving dish is sure to please all the seafood lovers!
---
Seafood stuffing is packed with great flavor from high-quality smoked oysters and fresh herbs.
And, super moist but not soggy from the cream, butter, and the extra flaky, buttery croissants.
I combined my love for seafood with one of my favorite pastries - croissants. They're quite nostalgic for me, and upgrading a side dish many seek out every year is the perfect place for them!
For more delicious canned and tinned seafood recipes, try making this beautiful seacuterie board, a seafood appetizer that's perfect for the holidays! For quick and simple meals I love this tuna fried rice, and this simple tuna pesto pasta.
This stuffing (or dressing) isn't your typical oyster stuffing, it's packed with flavor, easy to find ingredients and made with ease! Not many can get their hands on fresh oysters, I wanted to create an easier version with tinned oysters!
There's a lot of history with oysters on Thanksgiving. Giving thanks to a successful year of harvest and celebrating over oyster stuffing has long been a tradition in some families.
Now - let's dig in to the details!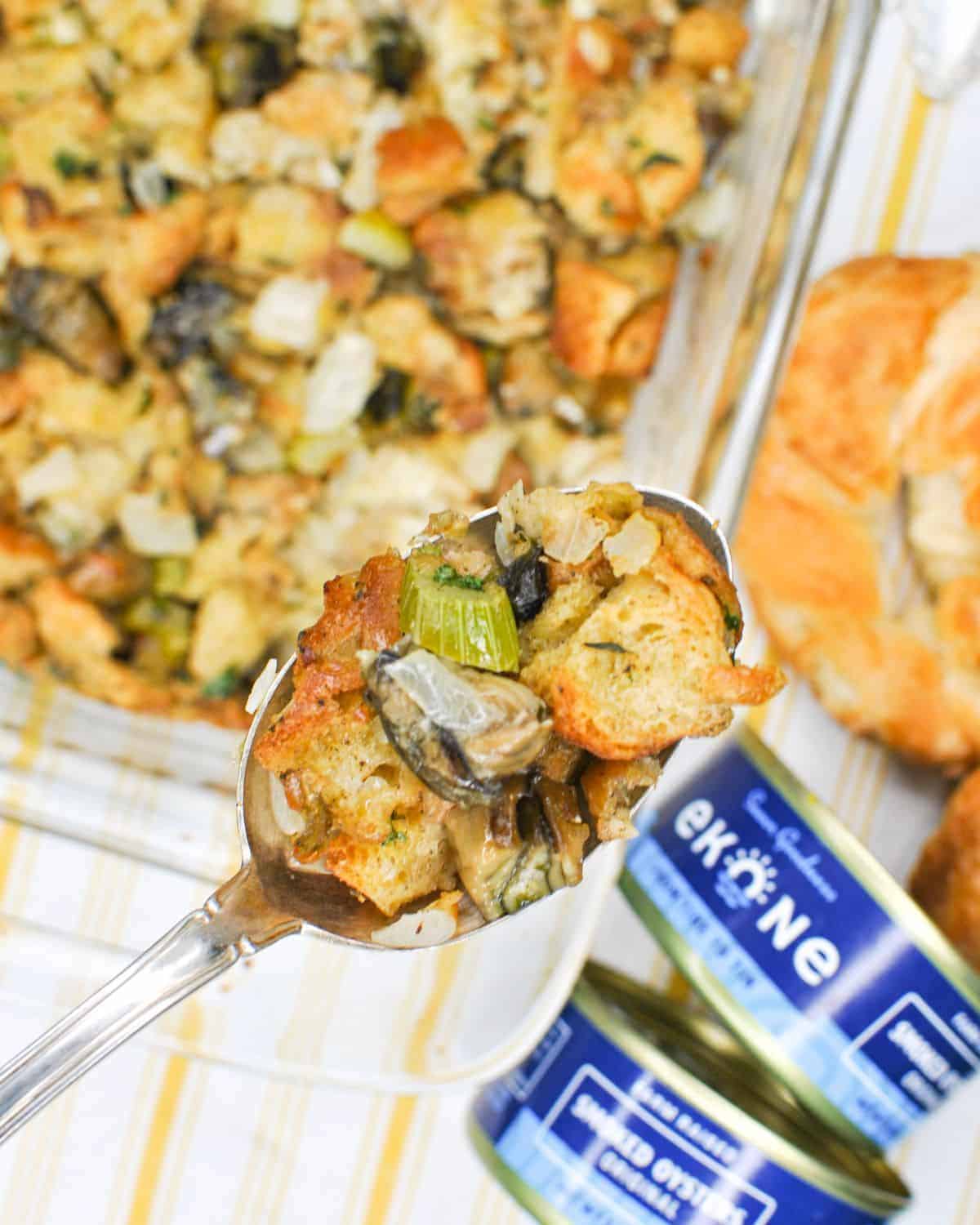 INGREDIENTS NOTES
CROISSANTS: These buttery, flakey, heavenly things should be in every recipe possible, am I wrong? They are the best switch you can make to immediately create a more decadent flavor that everyone devours.


Any croissants will do, but preferably the freshly baked ones in plastic containers, right in the bakery section of the store. And, if you shop at Costco, they have good ones! You can get them in advance and store them in the freezer until you're ready to make this recipe.
CANNED SMOKED OYSTERS: Ever tried oyster stuffing and thought something was missing? Well, I'm here to tell you that Smoked Oysters are the solution. They create a rich, smokey element that makes this dish magical!
To make this seafood stuffing recipe truly easy for anyone to pickup the ingredients at their local market. But, if you're looking for quality tins, I love using Ekone by Taylor Shellfish. They provided me with the tins for this recipe.
VEGGIES: Adding the traditional aromatic veggies helps keep this dish grounded to it's roots. A little bit of celery, and a little bit of onion add that much needed flavor!
WHITE WINE. Any white wine will do. I made it with Chardonnay the first time and the flavor was great! If you have Dry White Vermouth local, then use that instead. I suggest using ½ the amount of wine required, and substitute the other half for more chicken broth. Dry white vermouth has an abundance of complex flavors that work amazingly well with this decadent dish.
CREAM: Ok, here me out. I tried this recipe without cream the first time, and mainly because I didn't think anyone put cream in this dish. And, after the first sample bite I took, I immediately said to myself "I have to remake this with a little bit of cream". I'm so glad I did, it's now perfect! And, the cream compliments the smoked oysters soooooo well!
BUTTER: A little bit of butter, and a tiny bit more will do (haha). It's the holidays after all, so who's counting?
EGGS: To get this wonderful dish to stick together, eggs are needed!
CHICKEN BROTH: Adding just enough broth to this dish helps it become moist, but not soggy. Not to mention adding a good amount of flavor that gives this nostalgic dish it's flavor.
FRESH HERBS: Ever made a dish that needed a boost of flavor? Well, fresh herbs are sometimes the answer, and that's especially true in this recipe. I'm thankful that summer extended a little more than it should have into October, because by the time I made this dish (a couple times, actually) I was still able to run outside to my little herb garden and gather everything I needed.
HOW TO MAKE THIS RECIPE
This recipe makes about 8 servings, or 1 large casserole dish.
Step 1: Prepare the veggies and gather all your ingredients. Then, on medium heat melt butter and sauté the onion and celery. Pour in the wine, and add the garlic at the end.
Step 2: Whisk all the wet ingredients along with the herbs, spices and salt. Mix in smoked oysters and the veggie mixture.
Step 3: Gently fold in the croissant pieces to the wet mixture and spread on a baking dish.
Step 4: Bake on 350F until golden and crispy!
RECIPE NOTES
What Makes It Easier Than Others?
Making this beloved Thanksgiving side dish with canned oysters makes it so much easier than a typical oyster stuffing, and the smokey flavor that's added is absolutely divine and works so well with extra butter, fresh herbs and of course a dash or two of cream to keep the dish nice and moist!
Decadent Bread Substitute
Making stuffing with oysters isn't completely ordinary.
And being that it's a more elegant dish, I had to match the other most important element - the bread.
So, I took a classical approach with traditional flavors, yet upgraded the bread to Croissants.
And, that was an absolute GAME CHANGER!
Being raised on croissants for half my childhood, they're every bit nostalgic to me. So of course I couldn't say no to these ultra-flakey, buttery pieces of comfort food!
The Secret Ingredient - Canned Oysters
By adding in Smoked Oysters to this decadent dish it sure took it to a whole new level of deliciousness. I mean, we all show up for the stuffing, really, so why not make it next-level this Thanksgiving?!
And, if you're not quite sold yet, might I embarrass myself and say that I've never been a huge stuffing person, and after I made this, my husband and I ate the entire batch. It just needed a few tweaks here and there ;).
Lusciously Buttery
The first time I made this recipe, I opted out of using cream, and although it was good, it was missing something.
So, I increased the amount of butter typically needed by a smidge and added cream. Afterall, this is a seafood Thanksgiving dish, so I was after a cozy, flavorful, and rich recipe. And, boy, oh boy, did this turn out exactly that!
EXPERT TIPS
Do NOT mix the ingredients and store for prolonged period of time before cooking. Keep the wet ingredients and the bread separately until just before cooking. This is my TOP tip to not getting a soggy dish.

Crisp the croissants in the oven or leave out on the counter overnight to become stale.

Use a quality Smoked Oyster Tin. I used EKONE Smoked Oysters. They're farm raised in Washington state and have the best ingredients in all their tins. Thankfully, they ship nationwide!

Make sure your Poultry spice hasn't expired. Using older spices provides less flavor. Being that this meal is a little extra, I wanted to send out a friendly reminder to check the date prior to adding your spice. We all forget!
HOW TO PREP AHEAD
The most important tip to remember when prepping in advance is to not mix the wet ingredients with the croissant until just before baking. The Croissants needs to stay flaky, and too much moisture for a long period of time will take that away.
Mix all your wet ingredients with fresh herbs and store in a Tupperware.
Prep the croissant and store in an air tight bag or Tupperware.
Dice the veggies and place in a Tupperware
STORAGE & REHEATING
I'm assuming there won't be leftovers, but if you get by making a little more than you need, then store in an airtight container up to 4 days.
You can easily microwave to reheat and enjoy again!
FAQ
Why do you put eggs in bread stuffing?
To get this wonderful thanksgiving dish to stick together, eggs are needed! Eggs act as a binding agent to hold the entire dish together. Without it, the dish would fall apart more easily and wouldn't be as presentable. So stick to using eggs for binding your this staple dish.


What's the best bread for stuffing?
The best bread to use by far is croissants. By ditching tasteless white bread and upgrading to a flakey, buttery, decadent croissant, you will be sure to love this dish SO much more than ever before. It's the perfect switch to an elevated memorable thanksgiving seafood stuffing. By either cutting the croissant into cubes or tearing it, and crisping in the oven prior to mixing it with the rest of the ingredients, you will be sure to taste the flakey layers in every bite!

WHAT TO SERVE WITH SEAFOOD STUFFING
Side Dish: Try it with Rosemary Parmesan Bread, or Butternut Squash Fries, and of course, this Mediterranean Beet Salad for a fresh nutritious and hardy salad.
Dessert: Pumpkin Bread with Cardamom Sugar is a great light dessert option alongside this oyster dressing recipe

Drink: Pair this recipe with this Creamy Espresso Martini! If you're looking for a lighter drink, try Spicy Mango Margarita!
For wine options try a dry white wine, like a Pinot Gris, Chardonnay, Sauvignon blanc, or Viognier. Cheers!
RELATED RECIPES
Because we're a seafood blog, there's tons of seafood recipes to choose from. Here are a few:
---
I LOVE HEARING FROM YOU! When you make this dish, please RATE using the stars in the recipe card, and COMMENT at the end of the page how you enjoyed this dish.
BONUS: Share this recipe with others (there's an easy SHARE on FB button in the recipe card!).
Easy Croissant Seafood Stuffing (with smoked oysters)
Easy Seafood Croissant Stuffing with Smoked Oysters!
Turns out extra buttery, flaky, and smoky.
Try this seafood dish as a side for Thanksgiving or use it to stuff with fish.
Ingredients
2

3 oz.

Cans of Smoked Oysters

12

cups

Croissant

chopped or torn, about 24 oz.

1

stick

Salted Butter

2

ribs

Celery

chopped

1

Yellow Onion

diced

5

cloves

Garlic

minced

½

cup

Heavy Cream

2

Eggs

Beaten

1

cup

White Wine

Chardonnay or another dry wine

1

cup

Chicken Broth or Vegetable Stock

2

tablespoon

Chopped Fresh Parsley

2

tablespoon

Chopped Fresh Sage

1

tablespoon

Poultry Seasoning

1

tablespoon

Chopped Fresh Rosemary

½

teaspoon

Salt

or to taste

Fresh Shaved Manchego to serve
Instructions
Preheat the oven to 250°F and bake the croissant pieces on a baking sheet until crispy, about 20 minutes.

Meanwhile, melt the butter in a large pan, and add in the onion and celery. Cook until softened while stirring, roughly 6-7 minutes. Stir in the wine and the garlic, then set aside.

Once the croissant pieces are crispy, increase the oven temp to 350°F. Then, in a large mixing bowl, mix together the heavy cream, eggs, broth, poultry seasoning, salt, and all the fresh herbs. Into that mixture, mix in the veggie mixture, along with the smoked oysters.

Drop in the croissant cubes and gently fold the mixture together. Transfer the stuffing mixture to a buttered casserole dish and bake until golden and crisp, about 35 minutes.
Notes
To Prepare Ahead of Time: Prepare and follow all the steps up until mixing in the croissant pieces. Store the wet mixture in an airtight container, and the croissant pieces in a storage bag. When you're ready to bake, gently combine in a large mixing bowl and bake. 
To Make This Even Faster: Leave croissant pieces out overnight, to stale naturally instead of baking.
Canned Smoked Oysters: The brand I used doesn't have excess oil, but if yours does, you can discard the extra oil.
Nutritional info is an estimate.
Made this dish? Share it and tag us on social! @ThePerfectTide
Nutrition
Serving:
1
serving
Calories:
405
kcal
Loved this recipe?
Give us a 5 star review & Share!