If you're looking for a way to a burst of fresh flavor to your dishes but don't have fresh or dried mint on hand, then look through this list of the 12 best substitutes for mint! Plenty of herbs provide a similar flavor to substitute for mint for any recipe, like basil, dill, cilantro and chocolate mint!
Running out of spices and herbs you need in a recipe is never fun, but having back-ups on hand can save the day!
Especially when it comes to mint, being a powerhouse of flavor and health benefits!
Oftentimes, you have substitutes on hand that you didn't realize you could easily use. That happens to me regularly, which is why I have a list of substitutes for chia seeds, substitutes for lemon pepper, mustard seeds alternatives, and substitutes for harissa.
TOP TIPS ABOUT MINT
How do I store fresh mint leaves to keep them fresh longer?
There are a few hacks to extend the life of fresh mint, but my favorite way is to trim the stems, place them in a glass of water, cover them loosely with a plastic bag, and store them in the refrigerator. Change the water every few days.
Use the Right Amount in recipes.
Mint can be quite potent, so use it sparingly at first and adjust to taste. Start with a few leaves and add more if needed.
Use it with flavors that compliment.
It pairs well with a variety of ingredients, like lemon, lime, cucumber, strawberries, yogurt, and lamb. Try it with different flavor combinations to find your favorites, I know mine is with a fresh tabouleh salad, or topped with this blueberry goat cheese toast!
Make Mint Syrup: This can be an amazing hack to be able to easily add mint flavor to desserts and drinks. Making a simple mint syrup can last much longer than fresh mint. To make syrup, start by simmering mint leaves with water and sugar until it's infused with enough minty goodness to your liking.
BEST SUBSTITUTE FOR MINT
Use this selection of the best substitutes for mint based on your specific recipe and needs, whether you're making a salad, a meat dish, or a sweet treat!
When substituting mint with any of these alternatives, be sure to adjust the quantity to achieve the flavor you're going after.
SUBSTITUTE FOR MINT LEAVES
My top selection of other fresh or dried herbs to use when you need of a substitute for fresh mint.
1. Flat-leaf parsley
Parsley can be a great substitute for fresh mint, though it's not as strong in flavor, it is a fresh pop of flavor and color. It won't overwhelm your dish yet still adds freshness, which is a great plus! You can make this herbed tahini sauce with parsley and dill.
2. Cilantro
Cilantro or coriander have a fresh vibrant, and slightly citrusy flavor. It's a great replacement for mint in a variety of savory dishes, salads, or sauces like this chimichurri.
3. Basil
Basil and mint are both fresh and vibrant herbs that can be substituted in many dishes. Both herbs can enhance the flavor of your recipes, whether you use them in savory dishes like pasta or salads or in drinks and desserts.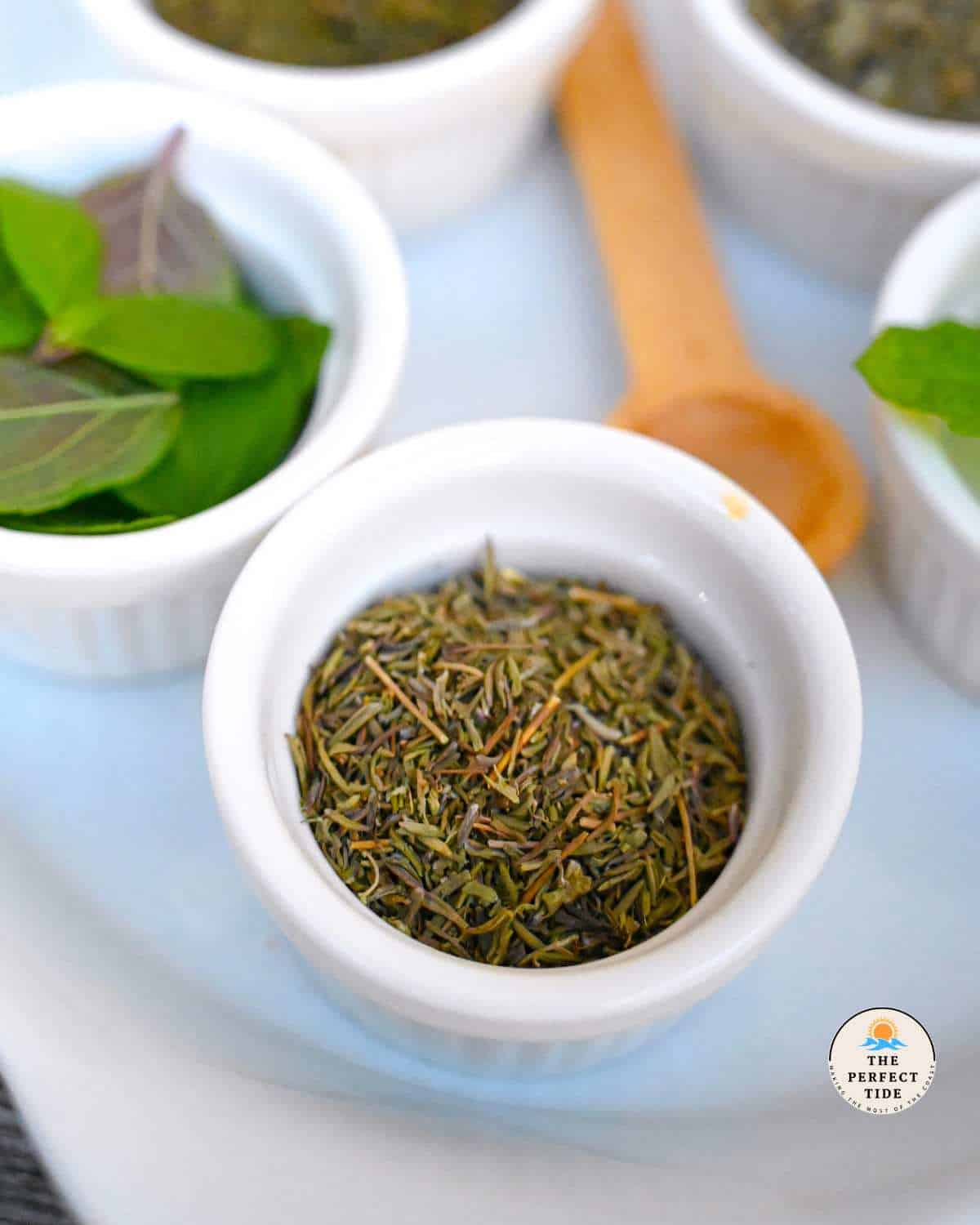 4. Thyme
I often use mint in salads, and I can easily substitute it for thyme if I add it to my dressing. You can use fresh or dried thyme as a good alternative for fresh or dried mint.
5. Dried mint
This might be given, but you can substitute fresh mint for dried mint when possible. You can add it to a salad dressing or marinade instead of the dish itself if that's all you have. You will get the right flavor without running out to the store for another ingredient.
6. Chocolate mint
Chocolate mint is a great option for sweet treats, tea, or infusing in drinks. It's fresh, minty, and has a slightly sweet chocolate flavor.
How to use it: In drinks, sweets, and recipes that can handle a slight chocolate flavor.
7. Mint extract
If you want an easy way to add mint flavor to your drinks or desserts, then mint extract is a great choice for fresh or dried mint substitute. Though, you'll have to tread lightly with an extract since it's very concentrated and potent.
Start by adding a drop and increase as you taste test for intensity.
DRIED MINT SUBSTITUTE
You can oftentimes substitute dried mint with other dried herbs. Look through the list and find the best option for your dish:
8. Dried Oregano
I love using oregano as a substitute for mint in various savory dishes, especially in Mediterranean cuisine.
9. Peppermint tea leaves
Using peppermint tea leaves makes the perfect replacement for fresh or dried mint leaves in drinks. You will want to infuse the drinks rather than adding it as an ingredient. Soak until it's reached your desired potency.
10. Dried Thyme
Dried thyme can be a great alternative since it's also used in a wide variety of dishes from salads, marinades, on roasted vegetables, and even crockpots.
11. Dill
I use dried dill in a few of my salads that I can also use mint for. Dill can be great to use since it has a grassy and slightly sweet and citrusy flavor. It's great for adding a fresh and strong herb flavor to dishes.
You can easily substitute it in salads, bean salads, salsas and seafood.
12. Tarragon
Dried tarragon can be a unique sweet flavor to add to a dish. It has a licorice-like flavor, and compliments a variety of dishes like salad dressings, fish, and chicken.
WAYS TO USE MINT
SAVORY
A family favorite and a weekly regular for us, is this tabouleh salad. It uses fresh mint, but can easily be substituted with dried mint as well.
The Mediterranean diet uses a ton of fresh mint, parsley, and other herbs inside the dish, as well as to garnish. For dips like baba ghanouj, mutabal, and hummus, herbs are used as garnish. Most of the time it's mint, (we love our mint!), but you can substitute it for any other herb when used as garnish.
SWEET
One of my absolute favorite brunch items is this blueberry toast with fresh herbs. It's sweet and savory and all-around satisfying in every way!
Or go for a classic Mint chocolate chip ice cream!
DRINKS
Mint julips, mojitos, and even this blueberry gin cocktail can be great with mint. Another herb that you can try with these drinks is basil. It has a fresh and sweet flavor that will pair well with cocktails or mocktails!
FAQ
Can dried mint be used as a substitute for fresh mint leaves?
Yes, dried mint can be used instead of fresh mint. It's much stronger and more concentrated, so use about half of the amount of fresh mint, or less depending on your dish.
Are there non-mint alternatives for mint flavor?
Yes, you can use other flavorings to get a minty taste. For example, you can use peppermint or spearmint tea, mint-flavored extracts, or even a touch of menthol (sparingly) in some recipes.

What can I use instead of mint in beverages like mojitos or mint juleps?
For a fresh herbal twist, you can replace mint leaves in cocktails like mojitos with basil, cilantro, or lemon verbena. Mint juleps can be made with herbs like basil or lavender for a unique flavor. Experiment with a small portion to figure out what you like best.

Can I use mint extract as a substitute for fresh mint leaves?
Yes, though you'll need to tread lightly with an extract. It can be a great alternative to use in drinks and desserts. Start with a drop or two and taste for potency before increasing.
RELATED
12 Best Substitutes For Mint
If you're looking for a way to a burst of fresh flavor to your dishes but don't have fresh or dried mint on hand, then look through this list of the 12 best substitutes for mint!
Ingredients
parsley

cilantro

basil

thyme

dill

mint extract

dried mint

chocolate mint

peppermint tea leaves

oregano

tarragon
Instructions
Choose the best ingredient for your dish. If you're using a sweet or drink recipe, consider using peppermint tea leaves, mint extract, or chocolate mint.

For savory recipes, use one or two herbs of your choice to substitute for mint.
Loved this recipe?
Give us a 5 star review & Share!
RELATED RECIPES