This Clam dip recipe is a MUST TRY for your next gathering! Make it cold, or as a baked clam dip and serve with chips, crackers, or cucumbers. It's easy to make and comes together in 10 minutes!
This delicious baked clam recipe has so many perks, and it's so versatile! Like keeping it cold instead.
As a busy outdoorsy family on the Pacific Coast, we love going razor clamming. Every time we brought home razor clams I got more and more creative with them, and this buffalo-style hot Clam Dip recipe is one of the many clam recipes that we love as a family.
It can be enjoyed both cold and as a baked clam dip with your go-to chips or crackers.
WHAT YOU NEED TO THIS RECIPE
Grab a few pieces of everyday kitchen equipment, 10 or so minutes of your time, and all the ingredients listed below to make this delicious clam dip recipe!
EQUIPMENT YOU'LL NEED
Cutting board. I've had this style of cutting board for years and love having multiple lightweight options, for meals where I'm using veggies and seafood.
A knife.
INGREDIENTS
2 cups of clams. Use razor clams, steamers, canned clams, cockles, horse clams, or anything else that's local to you.

3 tbsp clam juice, reserved from clams. Or use the juice that's leftover after cooking them.

1 tbsp olive oil for cooking

½ cup sour cream

8 oz cream cheese softened

3 tbsp parmesan cheese

2 tsp hot sauce or to taste, Tapatio or Louisiana. I prefer not to use sriracha since it's spicier, and we're looking for the flavor more than anything.

2 stalks green onion

1 heaping tsp smoked paprika

½ tsp Johnny's seasoning, salt sea salt is ok

green onion for garnish

crackers for serving!
HOW TO MAKE CLAM DIP
1. First, you'll need to gather all the equipment and the ingredients that we'll need.
2. If the clams you're working with are raw, blanch or sauté them until just about cooked.
3. To the food processor, blend all the ingredients, except the clams.
4. Add the cooked clams to the food processor.
5. Blend just enough to chop the clams.
FOR BAKED CLAM DIP
Transfer the clam dip to an oven-safe dish and bake at 350F until warmed through. About 30 minutes.
SERVING SUGGESTIONS
This clam dip is so delicious both cold and warm with tortilla chips! It's a great way to get a ton of protein in with less guilt.
Mix leftovers in eggs for a delicious omelet.
Roll your own homemade spring rolls with this dip.
Add to Macaroni with extra cheddar cheese.
STORAGE SUGGESTIONS
Once cooked, Pacific razor clams can last up to 2 days. However, we typically eat them the day of and the day after at most.
Browse our many other amazing razor clam recipes to elevate your razor clam cooking this harvesting season!
CAN YOU MAKE BAKED CLAM DIP IN ADVANCE?
Yes! I typically make this recipe around lunchtime to enjoy for dinner. Then bake just before serving.
WHAT PART OF A RAZOR CLAM TO USE FOR THIS RECIPE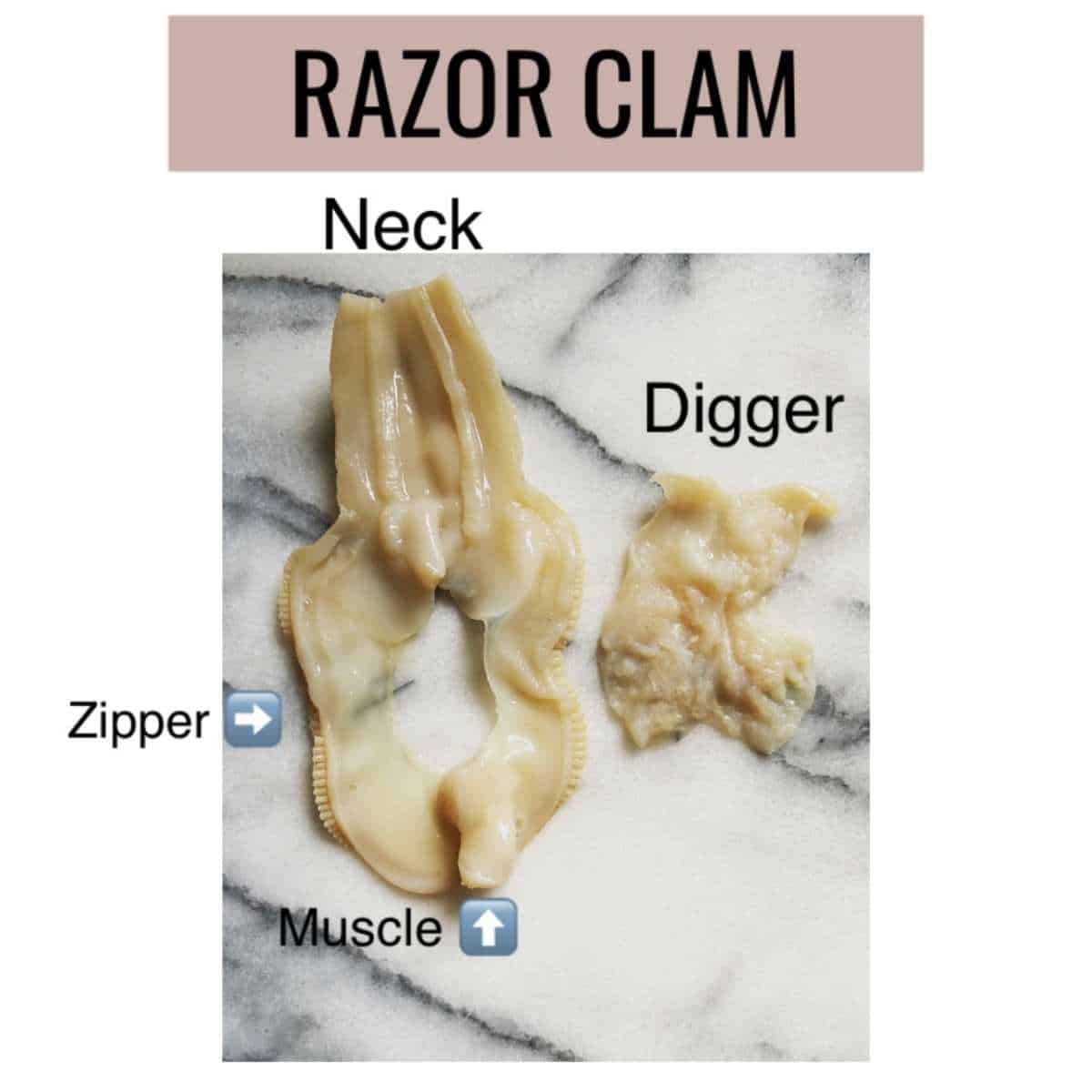 Here is a diagram that I put together to show the anatomy of Pacific Razor Clam.
This is a quick way to understand what to use in this recipe if you're working with these clams.
For this razor clam dip recipe, I use every part of the razor clam. However, if you are more partial to the digger, then this is the perfect recipe to use up the razor clam necks!
The neck being tougher adds a little chew, and the digger is as soft as it gets.
WHAT PART OF A RAZOR CLAM IS MOST DESIRABLE
The neck of a razor clam is the toughest part and the digger is the softest part. Besides being softer of a bite, many find the digger of the Pacific razor clam to be most desirable because it's much more forgiving to cook than its counterpart.
Aside from the digger, my other favorite part of a razor clam is the muscle. The muscle, which is sometimes overlooked or tossed, is exceptionally soft and buttery. The muscles remind me so much of a scallop.
There are two muscles per clam and they are often thrown out due to improper cleaning.
Read our guide on the Easiest Way to Clean Razor Clams to learn how to clean your clams correctly, you will be able to save these delicious pieces.
HOW DO YOU DIG RAZOR CLAMS
We have an entire section on our blog dedicated to this very topic!
Pacific razor clams are along the Pacific coast, from Alaska down to California. In order to find razor clams, you will need a digging tool such as a clam gun (link here for an awesome one!) or clam shovel, along with a low tide. Depending on what state you are in, you will need to purchase a shellfish license and watch for approved clam tides. For more information, be sure to head to our Activities page, and go through our articles on everything you need to know before you go razor clamming on the Pacific coast. We have the best guides out there, specially made for families!
HOW TO THAW FROZEN RAZOR CLAMS
I typically place the frozen razor clams in the fridge overnight or the morning of to thaw. Razor clams thaw fairly quickly since they're thin.
MORE CLAM RECIPES
If you enjoyed this recipe, let me know with a comment and a star rating below. Please share it on Facebook and save it to Pinterest for later!
Clam Dip (Baked or Cold)
This clam dip recipe always pleases our crowds and can be made either cold or baked! It's an easy seafood appetizer that will shine in every gathering! Grab cream cheese, clams (razor clams, steamers, or others), and your favorite hot sauce! Enjoy this cold or baked clam dip with your favorite cracker or chips!
Ingredients
2

cups

clams

razor clams, steamer clams, cockle clams, or your preference

3

tablespoon

clam juice

reserved from clams, see notes below

1

tablespoon

olive oil

for cooking

½

cup

sour cream

8

oz

cream cheese

softened

3

tablespoon

parmesan cheese

2

teaspoon

hot sauce

or to taste, tapatio or Louisiana

2

stalk

green onion

1

heaping tsp

smoked paprika

½

teaspoon

Johnny's seasoning salt

sea salt is ok

1

stalk

green onion

for garnish
Instructions
In a food processor, add all the ingredients, except the clams and pulse just a couple of times to combine. It doesn't need to be completely mixed in at this point.

In a shallow pan on medium-high heat, drizzle oil and cook razor clams for about 10 seconds on each side. Reserve the juice from cooking the clams to add to the dip. Place each razor clam into the food processor as it's done cooking.

Pour in any leftover raw razor clam liquid into the pan and cook for a minute. (If no juice see note below)

Use the cooked razor clam juice to add to the food processor and blend until clams are finely chopped, not too much!

Scoop the dip into a serving bowl and set in the fridge to chill until ready to serve. Enjoy with plain tortilla chips.
Baked Clam Dip
Place in an oven-safe bowl or baking dish. Bake on 350℉ until bubbly, about 30 minutes.
Notes
Recipe Notes:
If you don't have clam juice in your clam package: add ¼ cup of water to olive oil and bring to a boil, then cook the clams in it. Use the liquid from that in replacement.
Be sure to post your dish on social media and tag us! on Facebook @perfecttideon Instagram @theperfecttide
Loved this recipe?
Give us a 5 star review & Share!
OTHER SHELLFISH RECIPES