A list of 12 of the best Shiitake Mushroom Substitute For Any Recipe providing detail on each mushroom so you are confident in choosing the perfect substitute!
Foraging for mushrooms is a fun fall activity, and we often have a few varieties that we go after every season. So, when we ran into a recipe that used shiitake mushrooms and we didn't have any on hand, we successfully substituted it for other mushrooms!
My go-to shiitake substitute in the fall is a porcini mushroom (king bolete), since we forage a good bounty of this fungi! Out of season, you can easily use portobello or other options listed below, which can be more commonly found. For more substitute suggestions, and flavor and texture description for each shiitake mushroom substitute, read our full list below.
I've developed other substitutes for when your kitchen staples run out suddenly, like substitutes for mint, lemon pepper, chia seeds, substitutes for mustard seeds and even for harissa paste!
WHAT TO KNOW ABOUT SHIITAKE
What are their health benefits?
There are a wide range of health benefits in most mushrooms. Whether you're working with a shiitake mushroom alternative or the priced fungi itself, you can boost your brain health, gut health, and more.
What do they taste like?
Shiitake mushrooms are known for their rich, savory, earthy taste. They are sought after for their robust, slightly smoky flavor profile. They compare to a chantarelle for their "meaty" quality. Overall, they have a deep umami flavor that adds complexity to any dish! I have a few suggestions on how to cook with shiitake or it's substitutes below.
What do they look like?
Most mushrooms are defined on appearance by 4 qualities; their cap, gills, stem, and their size.
The cap of a shiitake starts out an umbrella shape when it's young and flattens out as the mushroom matures. Their color varies from light to dark brown. They also have a slightly glossy, but smooth cap.
They have gills that are white or brown that run close together from the cap to the stem. Their size can vary from 2 to 4 inches on the cap, and stems are typically 2 to 3 inches in length.
THE PERFECT SHIITAKE MUSHROOM SUBSTITUTE FOR EVERY RECIPE
1. DRIED SHIITAKE - Most easily stored!
The most optimal shiitake alternative is dried! Purchasing them dried and storing them for a later use is one of the best ways to substitutes fresh shiitake.
EXPERT TIP: Be sure to store it in an air tight bag and away from humidity. We live in a very humid environment, so I like to vacuum seal all dried mushrooms.
2. PORCINI (KING BOLETES) - Forager's best friend!
Porcini mushrooms have a rich, nutty flavor and a meaty texture that works well in various dishes. They can be harder to find and are more expensive than shiitake mushrooms, but they make a great flavorful substitute if you can find them! We forage for them in the Pacific Northwest and love making this Porcini Mushroom Soup.
3. CREMINI - Easily accessible
Creminis make a great substitute for shiitake mushrooms being that they're similar in size and color. They both have a similar earth flavor making them one of my top choices when looking into an alternative for shiitake.
4. PORTOBELLO - Common mushroom
Portobello mushrooms are the full grown (adult) version of the creminis. They have similar taste and texture. Making them a great shiitake substitute when you're looking at a grilled, sauteed, or bbq recipe. They can hold their shape extremely well, but still take on other flavors well.
4. OYSTER MUSHROOMS - Similar texture substitute
Oyster mushrooms have a delicate, slightly sweet flavor and a similar texture to shiitake mushrooms. They are found on trees and have a few varieties, such as most popular being a king oyster mushroom. They work well in stir-fries, soups, and other similar recipes as a replacement.
5. BUTTON MUSHROOMS - Versatile
Button mushrooms are also known as Agaricus bisporus, and are native to North America are often include white and brown mushrooms (cremini). They have a mild flavor and a soft texture. They can make a good alternative for shiitake mushrooms when in a pinch, but they won't hold as much flavor.
6. MORELS - Forager's best find!
Morels have a distinctive earthy flavor and texture resembles a honeycomb. They tend to be harder to find and often are gathered by avid foragers. Because of them being rare, they are more expensive and very seasonal.
7. CHANTRELLE MUSHROOM - Unique substitute
Chanterelle mushrooms have a distinctively fruity and peppery flavor, with a delicate texture. While they have a different taste profile than shiitake mushrooms, they can add a unique and delicious element to recipes such as risottos, pasta dishes, and sautés.
8. MAITAKE - Rare find
Also known as the "hen of the woods" has robust flavor and firm texture, similar to a shiitake which can make it the perfect substitute for dishes like stir-fries, soups, and sauce.
9. ENOKI MIUSHROOM - Asian-inspired dishes!
They have a mild, slightly sweet flavor. Their texture is crunchy and delicate. Enoki can be a good substitute if you're making Asian cuisine, as they're often used in similar dishes regularly. Though, they have long skinny stems that don't resemble a shiitake, they can still make a good alternative if that's what you have on hand.
10. LOBSTER MUSHROOM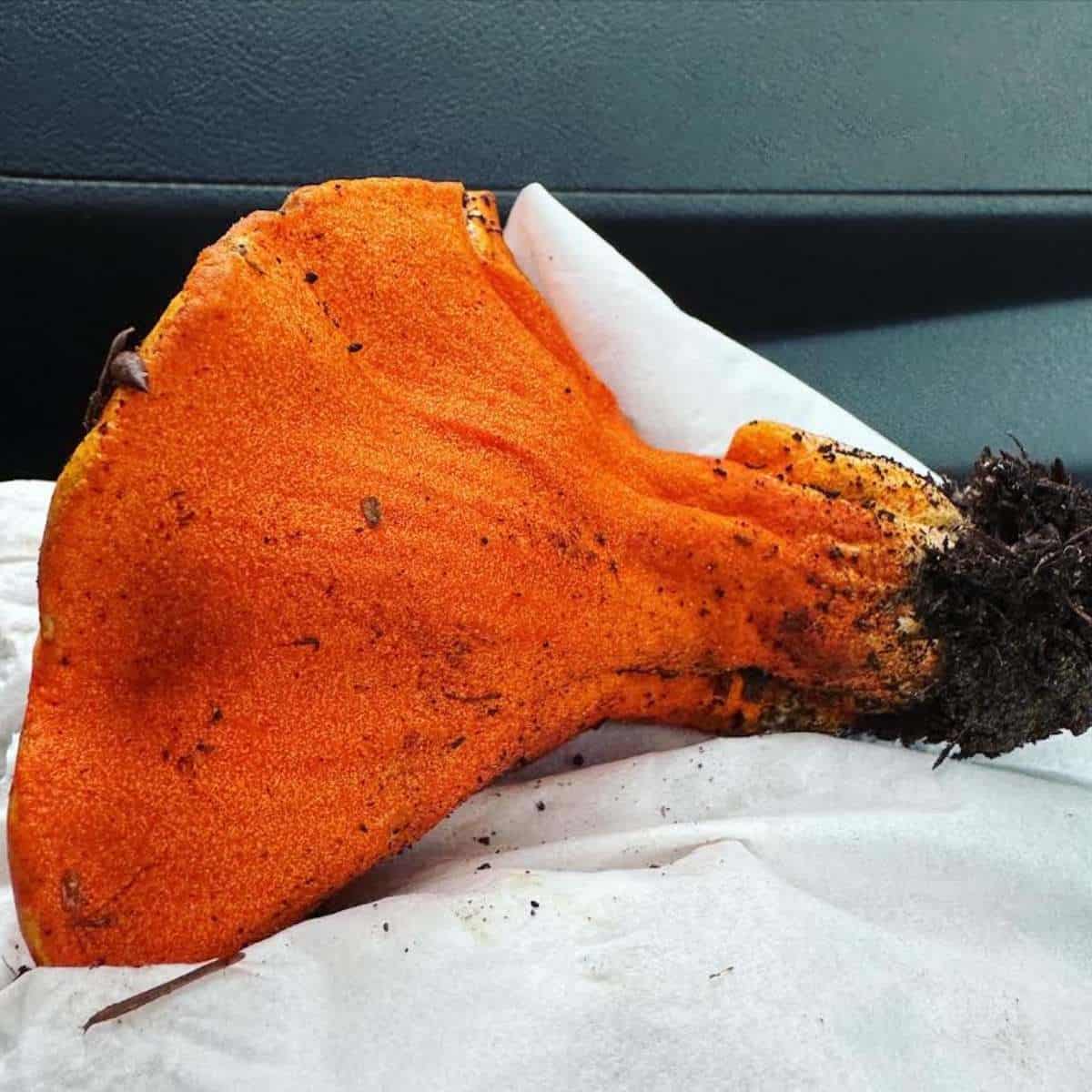 Lobster mushrooms have a distinct bright orange color that can make them easy to identify, similar to a chantarelle. They are fairly large in size and have a very distinct robust flavor.
11. TEMPEH - Great for a sauté!
Tempeh has an earthy nutty flavor that can be a great shiitake mushroom alternative.
12. TOFU - Easy replacement!
Tofu is a convenient replacement that can take on any flavor of your dish. It would make a great alternative in a soup, grilled, or in a sauté.
RECIPES THAT USE SHIITAKE OR OTHER MUSHROOMS
Mushroom Soup
This is the perfect healthy fall mushroom soup that features porcini mushrooms, or you can use Shiitake or any of the alternatives listed above.
Dried / Dehydrated
Mushroom Salt is a popular recipe to make with any mushroom with a strong flavor.
With Rice
Mushroom and rice dishes are some of my favorites, like this cauliflower mushroom recipe prepared with my go-to homemade Asian marinade. For a sophisticated side dish, this tasty mushroom risotto has you covered!
With Pasta
Mushrooms are often tossed in pasta for a delicious foraged dinner. Mushroom pasta with parmesan sauce is a dreamy creamy pasta that highlights morels, which make a great substitute for shiitake.
Stuffed
Stuffed shiitake or it's substitutes like cremini are the perfect vessel for stuffing! Try this spanakopita stuffed mushroom recipe!
Grilled
Calling all vegans! Grilled mushrooms are a great steak alternative, like this grilled portobello recipe.
Brunch
These buckwheat crepes with mushrooms are creamy and dreamy! This is a great recipe to feature any seasonal mushroom from our list.
SUMMARY
There are at least 12 substitutes for shiitake mushrooms depending on taste, look, and texture. Our list goes through each mushroom in detail so you can be confident in choosing the perfect substitute.
Remember that the flavor and texture of these substitutes may not be identical to shiitake mushrooms, but they can still be the best substitute in your recipes. It's always a good idea to experiment and adjust the quantities and cooking methods as needed to achieve the desired taste and texture.
12 Of The Best Shiitake Mushroom Substitutes
Discover the perfect substitute for shiitake mushrooms with our handpicked list, from oyster mushrooms to cremini, porcini, and more. Our list includes easy-to-find alternatives to unique forager finds!
Ingredients
Portobello

Cremini

Porcini (King bolete)

Oyster

Chanteralle

Maitake mushrooms

Enoki mushrooms

Lobster

Morel

Button mushrooms

Tempeh

Tofu
Instructions
Pick the best shiitake mushroom substitute from the list above and use it in your desired recipe. Read the post to get more detail on each mushroom's look, taste, and texture.
Loved this recipe?
Give us a 5 star review & Share!
RELATED