Whether you're looking for a total seafood Thanksgiving, Seafood Christmas Dinner, or seafood recipes for New Year's, you're in luck!
And, what better way to start your holiday season than by looking forward to these seafood dishes to share with your loved ones!
---
If you're anything like me, you immediately turn when you hear the word "seafood". So, if someone happened to be serving a cozy Christmas Fish Dinner, I may show up to that house over a Christmas ham to be honest (sorry!).
But, I will settle for seafood appetizers - that I will happily bring! So, I'm sharing my favorite seafood main dish ideas, appetizers and side dishes that you can also enjoy with your family throughout this holiday season.
The appetizers are perfect for enjoying during a game or movie! But, if you're looking for a complete overhaul, keep a close eye on the #1 on my list. It's my absolute favorite way to host!
Though there are very few things that are cozier than a thanksgiving table filled with nostalgic comfort food, having a dish or two be new is so fun. Having the traditional comfort food, and the "surprise me" dishes.... truly is the best of both worlds!
And, what better way to introduce new dishes than these seafood Thanksgiving recipes or a Seafood Christmas Dinner provided by The Perfect Tide, living and breathing fresh Seafood on a regular basis. And, if you celebrate the Feast of Seven Fishes (an Italian-American Christmas eve celebration including 7 seafood) then you'll definitely want to snag these Thanksgiving and Christmas mouthwatering seafood recipes!
Want to completely uphaul and simplify your holidays, but also serve a memorable meal? Make a seafood boil for a total Seafood Thanksgiving! Or Christmas! Or The New Year!
It's easy to make it happen with our full-service recipe below. You will have all the information you need, from how to set the table, what equipment you'll need and how to cook a seafood boil.
The idea would be that each guest brings an ingredient or two to contribute to this lavish, yet easy meal for a total seafood Thanksgiving like they've never seen before. This is a practice we've adopted a few times with my lady's group for various events, and they're loving it every time!
Seafood Croissant Stuffing is a must-try seafood Thanksgiving dish! It's packed with great flavor from high-quality Smoked Oysters, and fresh herbs. And, super moist from the cream, butter, and the extra flaky, buttery croissants.
In every bite you get a lusciously buttery croissant, smoked oysters, onion, celery and fresh herbs. Just yum!
So, make sure there's room on your Thanksgiving table for this Seafood Stuffing this year!
3. ROSEMARY PARMESAN-CRUSTED FISH
Christmas or thanksgiving fish recipes never got easier or tastier than this Rosemary Parmesan-Crusted Fish. With parmesan and rosemary to bring out amazing flavors of the already delicious fish and panko for that satisfactory crunch, it makes it the perfect comfort fish recipe for the holidays.
Don't sleep on this Thanksgiving, or Christmas fish!
Beer steamed mussels anyone? Make this dish to impress your guests with one of the most unique Seafood Recipes For The Holidays!
This dish can be served as a seafood appetizer, side dish, or main dish. You can double or triple the recipe to adjust it to fit your needs.
And, don't forget to enjoy it with a glass of Stout!
Equally important to Rosemary Parmesan Crusted Fish is this incredibly easy Christmas Fish!
This is great extra kick of protein on your holiday table for all who love a good Surf n' Turf dish.
Not to mention, it's a very simple 3 ingredient recipe that requires only Bacon, Boursin and your thin fish fillet of choice. I like to use Halibut, Flounder or Lingcod.
Sign up to receive all our recipes via email and easily share with friends!
[jetpack_subscription_form show_subscribers_total="false" button_on_newline="false" custom_font_size="16px" custom_border_radius="0" custom_border_weight="1" custom_padding="15" custom_spacing="10" submit_button_classes="" email_field_classes="" show_only_email_and_button="true" success_message="Success! An email was just sent to confirm your subscription. Please find the email now and click 'Confirm Follow' to start subscribing."]
Next, is this creamy filled crunchy Crab Rangoon recipe hits all the spots and fits right into other comfort food. So, look no more than this creamy and crunchy seafood appetizer for your holiday!
These Crab Rangoons can be made in the Air fryer for a healthier option or deep-fried for a traditional dish! One thing is for sure, you will definitely taste the crab in this recipe. We have it loaded with fresh Dungeness crab in every bite!
If your family is big into playing games and gathering for a long period of time, then whipping up a seafood pizza just might be your best bet for an easy meal while you're having fun.
This is an easy seafood pizza to make for a crowd this holiday season! Make it using a homemade cream sauce, fresh Dungeness crab or crab of your choice, and herbs to bring this seafood dish alive.
You can easily whip this up in advance and place in your freezer until you're ready to bake. Scoot over pepperoni pizza, and hello crab pizza!
8. EASY CRAB BOIL (the easiest Seafood Thanksgiving!)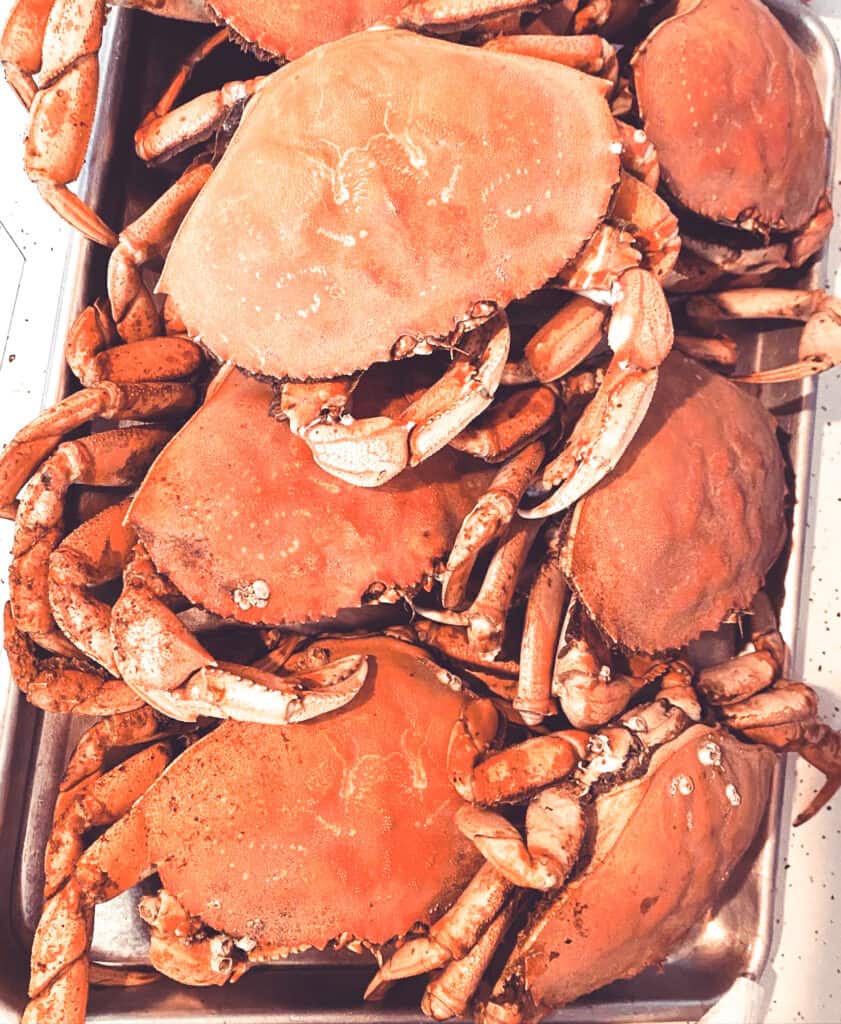 Alright, here me out here. If you have a holiday that lasts days, or not a big fan of the traditional holiday menu, then this super easy Crab Boil is a must for a total Seafood Thanksgiving, or a Seafood Christmas Dinner.
Not ready to host a large seafood boil, yet still want to feed a large crowd with a one-pot wonder? This super Easy Crab Boil will be your best bet!
PNW friends, this one's for you! If you're on the West Coast, one of my absolute favorite go-to healthy appetizers to pair with a heavy dinner is this Razor Clam Ceviche. This recipe along with number 9, are my one of my favorite Pacific Northwest Recipes for a crowd.
It's light, flavorful and with a Mediterranean and Pacific Coast twist to the average ceviche. It's perfect served with pita chips for a seafood appetizer for Thanksgiving, Christmas or The New Years!
Poppers, anyone? A seafood twist on a crowd favorite appetizer. This Clam Jalapeno Poppers recipe is always devoured, leaving no crumb behind!
Not to mention, how great of an appetizer it is to share while you're enjoying games, a movie or chatting with your loved ones this holiday season. It's another Surf n' Turf favorite and definitely an appetizer to share to have a twist on the traditional dishes for a Seafood Thanksgiving or Christmas.
11. BAKED MUSSELS WITH CHIMICHURRI
Last but definitely not least, this cozy Baked Mussels with Root Veggies recipe is every bit warm, flavorful and easy to make!
And, all that's needed is, food processor for the Chimi, and 2 sheet pans - one for the root vegetables and the other for the mussels. It's best served with our homemade Mediterranean-style Chimichurri!
Aside from a Christmas Fish, this Mussels dish is worthy of a spot on your holiday table!
Found a couple recipes you want to make this holiday season? Be sure to share with a friend or two!
And, in case you missed it, here's my my list for the Top 12 Gifts To Get The Seafood Lovers In Your Life!
Didn't find what you're looking for?
Check out the rest of our recipes for more inspiration.
Sign up to receive all our recipes via email and easily share with friends!
[jetpack_subscription_form show_subscribers_total="false" button_on_newline="false" custom_font_size="16px" custom_border_radius="0" custom_border_weight="1" custom_padding="15" custom_spacing="10" submit_button_classes="" email_field_classes="" show_only_email_and_button="true" success_message="Success! An email was just sent to confirm your subscription. Please find the email now and click 'Confirm Follow' to start subscribing."]